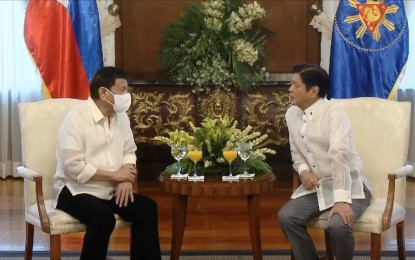 MANILA – Outgoing President Rodrigo R. Duterte on Thursday morning welcomed President-elect Ferdinand "Bongbong" Marcos Jr. in Malacañang Palace before his inauguration as the country's 17th president at noon.
Marcos arrived at the Palace at 10:27 a.m. and upon ascending the main stairs started chatting with Duterte, who was wearing a face mask.
He was asked to sign the guestbook and had a few more moments to speak with Duterte. Afterward, the two both descended the main stairs.
Based on tradition, the president-elect arrives at the Palace before the inauguration to pay a courtesy call on the outgoing president.
Duterte was given final military honors and eventually departed the Palace. This marks the end of Duterte's six-year presidency.
In an interview with reporters, outgoing National Security Adviser Hermogenes Esperon Jr. said Duterte will skip Marcos' inauguration.
He is set to return to his hometown Davao City via a commercial flight.
Marcos headed to the National Museum for his inauguration ceremony at noon.
The National Museum, formerly known as the Old Legislative Building, has served as the venue for the inauguration of former presidents Manuel L. Quezon (1935), Jose P. Laurel (1943), and Manuel Roxas (1946).
Chief Justice Alexander Gesmundo will administer Marcos' oath of office.
Up to 30,000 people are expected to flock to the Intramuros area to watch Marcos' inauguration, according to Philippine National Police (PNP) spokesperson Col. Jean Fajardo.
Over 19,000 police officers, soldiers, coast guard personnel and other force multipliers are currently deployed for the event.
Marcos, the son and namesake of former president Ferdinand Marcos Sr., is the third child of a former President of the Philippines to also become Chief Executive.
He became a majority president after obtaining 31,629,783 votes or 58.77 percent of the votes cast in the May 9 polls. (PNA)