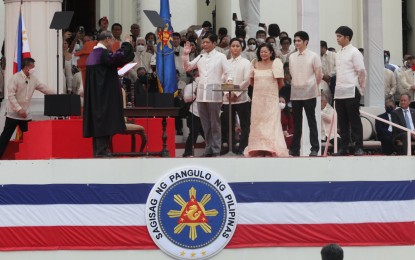 MANILA – Ferdinand Romualdez "Bongbong" Marcos Jr. took oath as the 17th President of the Republic of the Philippines, with a promise of promoting unity and bringing progress to the country.
Marcos, the son of the late former President Ferdinand Edralin Marcos Sr., was sworn in by Supreme Court Chief Justice Alexander Gesmundo at the National Museum of the Philippines in the City of Manila.
In his inaugural address, Marcos vowed to fulfill his mandate to serve and protect fellow Filipinos.
"This is a historic moment for us all," he said. "You picked me to be your servant to enable changes to benefit all. I fully understand the gravity of the responsibility that you have put on my shoulders. I do not take it lightly, but I am ready for the task," he said.
Marcos, donning a rayadillo-inspired barong made by multi-awarded designer Pepito Albert, opted for a "very solemn and simple" inauguration.
Marcos' wife First Lady Liza Araneta-Marcos and their sons Sandro, Simon, and Vincent graced the formal inauguration ceremony.
Also present were Marcos' mother, former First Lady Imelda Marcos; and sisters, Senator Imee Marcos and Irene Marcos-Araneta; Vice President Sara Duterte; and former Presidents Gloria Macapagal-Arroyo and Joseph Estrada.
The 1987 Constitution mandates the President-elect to take oath at noon on June 30, a ceremonial event marking the commencement of his six-year term as the country's new chief executive.
Prior to the inauguration, Marcos met with his predecessor, outgoing president Rodrigo Duterte, at Malacañan Palace for the latter's departure honors.
After his inaugural rites, Marcos is expected to host a traditional Vin d'honneur for foreign dignitaries, diplomatic corps and other invited guests.
Marcos will also administer the mass oath-taking of his Cabinet Secretaries at Malacañan Palace. He is also set to host an inaugural dinner.
The so-called People's Concert, which is part of Marcos' thanksgiving activity, will also be held on Thursday night.
The country's leading orchestra Philharmonic Orchestra and world-renowned Cecile Licad were tapped by Marcos to perform in the concert.
Marcos won the presidential race after garnering 31,629,783 votes or 58.77 percent of the votes cast in the May 9 national and local elections.
No hitch
Meanwhile, the Philippine National Police (PNP) thanked its personnel for their hard work which resulted in the peaceful and orderly inauguration rites.
In a statement, PNP director for operations, Maj. Gen. Valeriano de Leon also thanked soldiers and personnel from the Philippine Coast Guard, Bureau of Jail Management and Penology, Bureau of Fire Protection, Metropolitan Manila Development Authority, Department of Health, and other force multipliers from various government agencies.
"Indeed, all will be well if everything is planned well. The inauguration of our new President, Ferdinand "Bongbong" Marcos Jr., is peaceful, orderly, and successful. But we would not be able to do it without the hard work and sacrifices of everybody who took part as early as in the planning up to the last-minute implementation of the security measures," he added.
More than 15,000 policemen, soldiers, and other members of law enforcement and national and local government were deployed to secure the inauguration, which was attended by VIPs and foreign dignitaries.
De Leon also recognized the role of leaders, organizers, and members of various groups that held protests for policing their own ranks, which led to the peaceful programs.
Close to 1,000 protesters held a peaceful program at the Plaza Miranda in Manila, which was designated as a freedom park for the event.
Meanwhile, more than 5,000 Marcos supporters trooped to the public viewing area at the golf course in front of the National Museum of the Philippines in Manila before a lockdown was enforced in the area.
Showcase of assets
The Philippine Army (PA) also deployed some of its most modern assets in the preceding civic-military parade.
"PA deployed troops and contingency forces to support the National Capital Region Police Office and other government security forces in securing the National Museum and adjoining areas. The command likewise deployed personnel to augment the Presidential Security Group, the Commander-in-Chief's close-in security and escort personnel," Army spokesperson Col. Xerxes Trinidad said in a statement Friday.
Also deployed to augment the Armed Forces of the Philippines (AFP)'s Joint Task Force-National Capital Region were a communications van, armored assets, ambulances, and teams of explosive and ordnance disposal (EOD); K9; civil disturbance management (CDM); chemical, biological, radiological and nuclear (CBRN); and medics.
Trinidad said the Army deployed mounted and dismounted elements that paraded with contingents from the Philippine Navy, Philippine Air Force, Philippine National Police, Philippine Coast Guard and other sectors of society.
The parade is a symbol of according "high honors" to the new Commander-in-Chief.
Troops from the Security and Escort Battalion, Installation Management Command; Special Forces Regiment (Airborne); and First Scout Ranger Regiment paraded along Maria Orosa Street.
The Army also showcased its latest armored assets and the Army Artillery Regiment's (AAR) brand new ATMOS self-propelled howitzers in the activity.
The AAR's Saluting Battery also rendered a 21-gun salute to honor the new Commander-in-Chief following the parade. (with Lloyd Caliwan and Priam Nepomuceno/PNA)