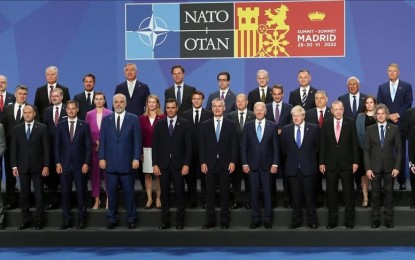 MADRID – NATO on Wednesday officially invited Finland and Sweden to become members of the military alliance.
The announcement came as part of the Madrid summit declaration following the meeting of NATO heads of state and government.
"Today, we have decided to invite Finland and Sweden to become members of NATO, and agreed to sign the Accession Protocols," the NATO members said. "In any accession to the Alliance, it is of vital importance that the legitimate security concerns of all Allies are properly addressed."
It also "welcomed the conclusion of the trilateral memorandum" between Türkiye, Finland, and Sweden.
Türkiye, Finland, and Sweden signed a memorandum Tuesday on the Nordic countries' bids for NATO membership following four-way talks in Madrid.
The signed memorandum addresses Türkiye's concerns about arms exports and the fight against terrorism.
Sweden and Finland formally applied to join the alliance last month, a decision spurred by Russia's war on Ukraine.
But Türkiye, a longstanding member of the alliance, voiced objections to the membership bids, criticizing the countries for tolerating and even supporting terrorist groups.
Stoltenberg has repeatedly said Türkiye has "legitimate concerns related to their fight against the PKK terrorist group and other organizations" and that the PKK is considered a terrorist organization by NATO, the EU, as well as Finland and Sweden.
In its more than 35-year terror campaign against Türkiye, the PKK has been responsible for the deaths of more than 40,000 people, including women, children, and infants.
"The accession of Finland and Sweden will make them safer, NATO stronger, and the Euro-Atlantic area more secure," the declaration said.
Other decisions at the summit:
- New Strategic Concept, the blueprint for the alliance in a more dangerous and competitive world, endorsed
- More military and financial support to Ukraine for the longer term
- NATO Innovation Fund launched to harness the best new technology for transatlantic security
- Aim to cut emissions by NATO bodies and commands by at least 45 percent by 2030, move towards Net Zero by 2050
- Fundamental shift in defense and deterrence to respond to a new security reality
This includes strengthening forward defenses, enhancing battlegroups in the eastern part of the alliance, transforming NATO Response Force and increasing the number of high readiness forces to well over 300,000.
- Russia described as the "most significant and direct threat" to allies' security, peace, and stability in the Euro-Atlantic area
- Allies recognize that they face "systemic competition" from those, including China, who challenge "the alliance's interests and security, seek to undermine rules-based international order". (Anadolu)