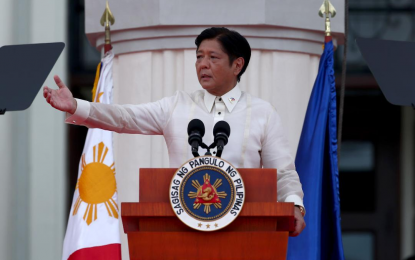 MANILA – Newly-installed President Ferdinand "Bongbong" Marcos Jr. promised on Thursday to transform the Philippines into an "agile and resilient" nation under his leadership.
In his inaugural address delivered at the National Museum of the Philippines, Marcos said he would act in haste and avoid delays in making decisions, in a bid to give Filipinos a better life in a "safer" and "more prosperous" country.
"That is how agile and resilient Republics are made," he said. "The sooner we start, the surer and quicker the prospect of achieving our future. These are troubling times. What is happening to others can happen to us, but it will not. We see what's happening."
Marcos was also elated that an overwhelming number of Filipinos has chosen him to lead the country, trusting him to bring unity and success.
Sticking to his promise of unity during his watch, Marcos expressed confidence that all Filipinos "will go further together than against each other, pushing forward, not pulling each other back."
"I believe that if we but focus on the work at hand and at the work that will come to hand, we will go very far under my watch. You believe that too," Marcos said.
Changes 'benefiting all'
Marcos also vowed to pursue changes, even "radical" ones, that would benefit the Filipino people.
"The changes we seek will benefit all and will shortchange no one. I was not the instrument of change. You were that. You made that happen," he said. "I will need your help. I want to rely on it. But rest assured that I do not predicate success on a wide cooperation that is needed. I will get it done."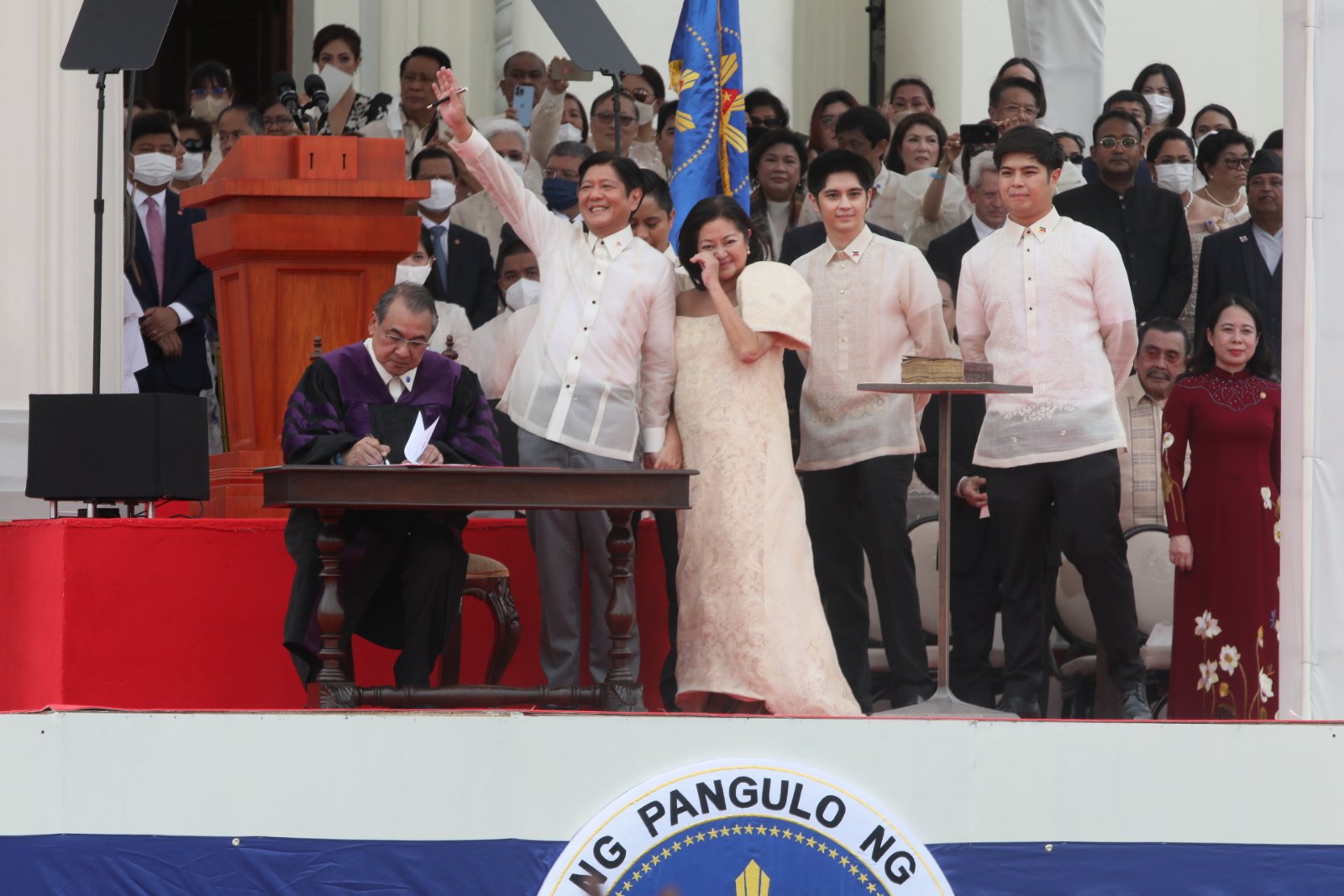 He guaranteed that his administration would adopt measures to ensure the country's economic recovery from the prevailing coronavirus disease 2019 (Covid-19) pandemic.
"The pandemic ravaged bigger economies and ours. Virus is not the only thing to blame. What had been well built was torn down. We will build it back better," Marcos said. "A stronger resilience, quicker adaptability, they are our best prevention, they are our best protection."
'Future of sufficiency'
Marcos, son of former President Ferdinand Marcos Sr., said he would not dwell on the past, as he intends to focus on the "future of sufficiency."
"I am here not to talk about the past. I am here to tell you about our future, a future of sufficiency, even plenty of readily available ways and means to get done what needs doing," he said.
Marcos, who will also serve as the agriculture czar under his administration, said food sufficiency is among his top priorities.
He made the promise, as he emphasized the need to give food sufficiency the "preferential treatment."
"The role of agriculture cries for the urgent attention that its neglect and misdirection now demands. Food self-sufficiency has been the promise of every administration. None but one delivered. There were inherent defects in the old ways and in recent ways too," Marcos said.
No excuses
He also assured his fellow Filipinos that he will make no excuses.
Marcos vowed to deliver his promises, which include providing solutions to the issues on the energy sector, protecting the welfare of the overseas Filipino workers, improving the country's education system, and boosting the tourism industry.
"Government will get as much done alone without requiring more from you. That is what government and public officials are for. No excuses, just deliver. It was like that, once upon a time," he said.
He said he would look for "new" and "better" ways to address the pressing issues confronting the country.
"In this fresh chapter of our history, I extend my hand to all Filipinos. Come, let us put our shoulders to the wheel and give that wheel a faster return to repair and to rebuild and to address challenges in news ways to provide what all Filipinos need, to be all that we can," Marcos said.
Thanking his predecessor
Meantime, Marcos also expressed gratitude to his predecessor, former President Rodrigo Roa Duterte, for his "courage" of making "hard decisions" aimed at bringing change and progress to the country.
He also vowed to continue some of the programs initiated by his predecessor, which include the infrastructure projects initiated by the Duterte administration.
He said he would come up with a "comprehensive" infrastructure plan to ensure the speedy completion of the projects.
"I will complete on schedule the projects that have been started. I'm not interested in taking credit. I want to build on success that is already happening," Marcos said. "Six years could be just enough time. No part of our country will be neglected. Progress will be made wherever there are Filipinos. So, no investment is wasted." (PNA)