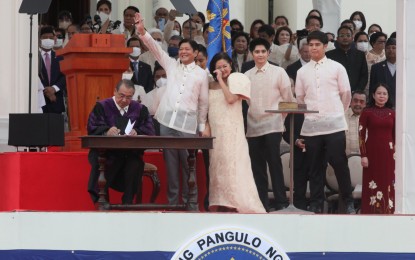 MANILA -- Staunch supporters of President Ferdinand "Bongbong" Marcos Jr. expect him to provide a better life for the poor in the next six years.
Wearing red shirts, Marcos supporters flocked near the National Museum in Manila to personally witness his inauguration Thursday.
Among them was 62-year-old Elsa Cabutol who hoped that Marcos would implement programs that provide senior citizens like her more opportunities to sustain themselves.
"Siya ang makatulong sa aming mahihirap. Ang sabi niya no Filipino (will be) poor kaya naman binoto namin siya (He's the one who's going to help us who are poor. He said that there will be no Filipino who will be poor that's why we voted for him)," Cabutol said in an interview. "Inaasahan ko pang magkatrabaho, mayroon iyan dahil may plataporma siya (Marcos) para sa mga senior (I'm hoping to get employed too in the future because Marcos has plans for seniors)."
"(Itong pagpunta namin ay) voluntary kasi may inaasahan kami na pagbabago, hindi lang kami, lahat buong Pilipinas (Our presence here is voluntary because we expect change to come, not only for us but for the entire Philippines)," she said.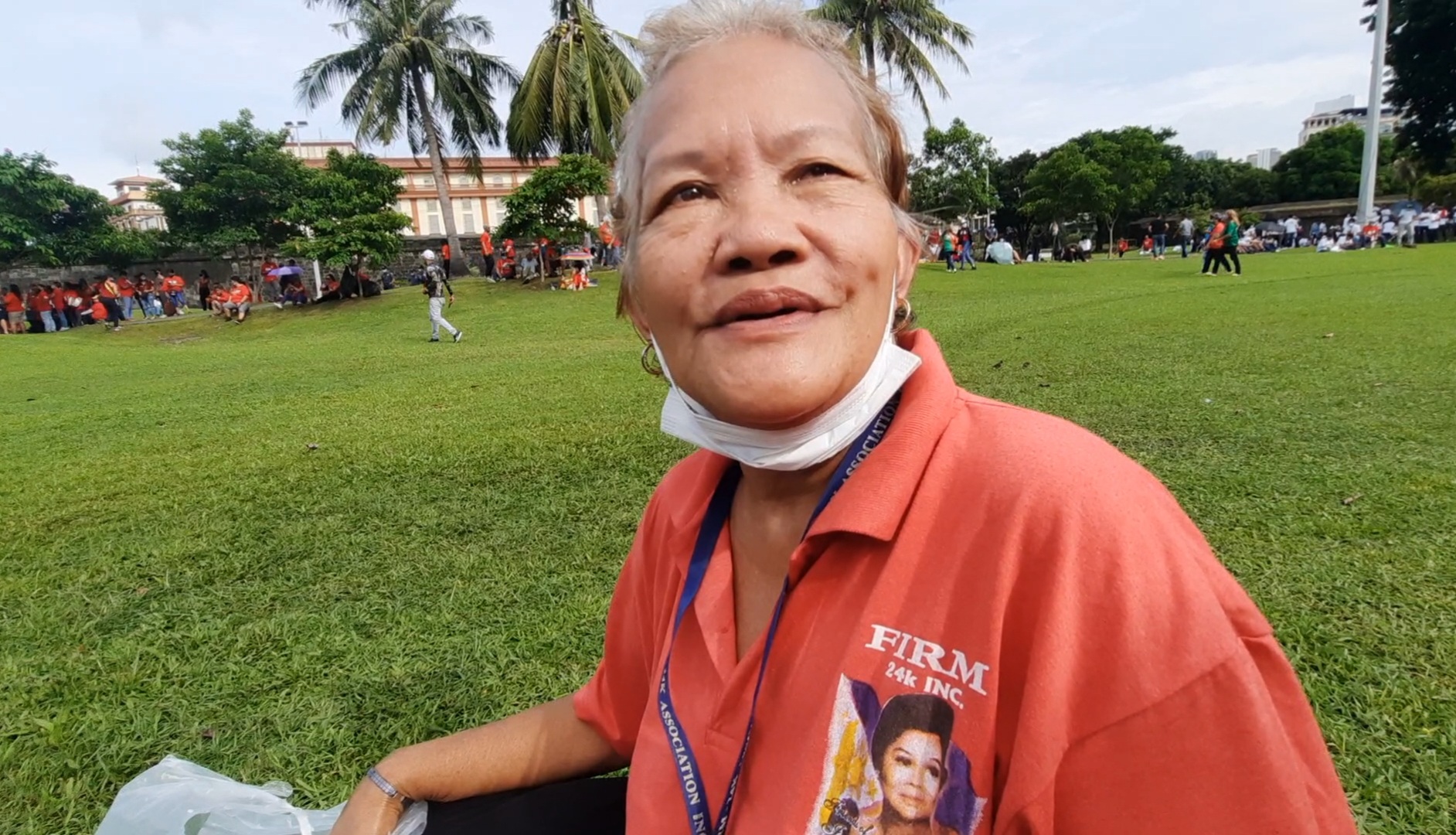 Food vendor Abelita Ledesma, 73, from Montalban, Rizal, took the early morning commute from her town all the way to Intramuros to show her support.
Ledesma said she voted for Marcos because she admires his father, the late President Ferdinand Marcos Sr.
"Noon mura pa ang bilihin ngayon ang mahal. Basta babaan ang presyo-- kuryente, tubig, mga pagkain, kasi mahal, nagtitinda-tinda lang ako ng meryenda (Back then the price of commodities is cheaper but now it's expensive. My hopes are for lower prices of necessities-- electricity, water, and food-- because I'm only selling afternoon snacks for a living)," she said.
17th President
Marcos was sworn in as the 17th President at noon, with Supreme Court Chief Justice Alexander Gesmundo administering his oath of office.
The oath-taking was witnessed by Marcos' wife, Liza and their three sons, along with foreign dignitaries and incoming officials.
The Holy Bible used in his oath-taking was the same Bible used by his father when he took his oath on two Bibles in 1965, according to a Facebook post by the National Library of the Philippines.
Earlier in the day, Marcos first went to Malacañan Palace to meet his predecessor Rodrigo Duterte, who was given departure honors that marked the end of his six-year term as the country's chief executive.
Marcos left Malacañan for the National Museum of Fine Arts past 11 a.m. and was greeted by a civic-military parade that showcased the country's weaponry and military vehicles around 11:40 am.
The ceremony featured a flyby of military air assets, including the A-29 Super Tucanos, Cessna planes, and SF-260 Marchetti aircraft that released smoke in the colors of the Philippine flag.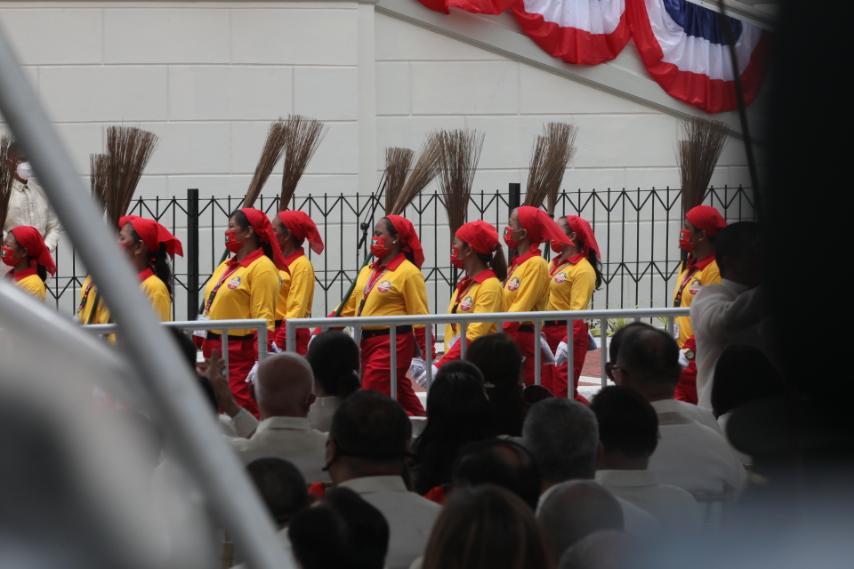 The country's labor force, medical front-liners, farmers, athletes, street cleaners, and overseas Filipino workers marched afterward, waving the country's flag as they passed by the first family.
In his first speech as the country's chief executive, Marcos vowed to "enable changes" that benefit all, emphasizing his readiness for the tasks he'll face ahead as president.
"I will need your help, I want to rely on it. But rest assured, I do not predicate success on the wide cooperation that's needed. I will get it done," he said.
He said he will not dwell on the past but strive for a "future of sufficiency" instead.
Apart from his supporters, dignitaries and ranking foreign government officials also witnessed Marcos' inauguration.
Among them are China's Vice President Wang Qishan, the United States' Second Gentleman Douglas Emhoff, Thailand's Deputy Prime Minister Don Pramudwinai, Vietnamese Vice President Vo Thi Anh Xuan, Australian Governor-General David Hurley, and Japanese Foreign Minister Hayashi Yoshimasa.
Also present were Saudi Arabia's Foreign Minister Faisal bin Farhan Al Saud, Brunei's Second Minister of Foreign Affairs Erywan Yusof, Malaysia's Foreign Minister Sri Saifuddin Bin Abdullah, Laos Deputy Foreign Minister Phoxay Khaykhamphithoune, South Korea's Floor Leader Kweon Seong Dong, the United Kingdom's Trade Envoy Richard Graham, India's Minister of State for External Affairs Rajkumar Ranjan Singh, Singapore's Minister in Prime Minister's Office Mohamad Maliki Bin Osman, Cambodia's Environment Minister Say Samal, and Indonesia's Coordinating Minister for Political, Legal and Security Affairs Mohammad Mahfud MD.
Special envoys from Brunei, Cambodia, Indonesia, Laos, Malaysia, Singapore, India, South Korea, and the United Kingdom were also present at the National Museum.
This is the fourth time the landmark building was used as a venue for presidential inauguration.
The first three former Philippine Presidents to take their oath at the National Museum were Manuel L. Quezon in 1935, Jose P. Laurel in 1943, and Manuel Roxas in 1946. (PNA)