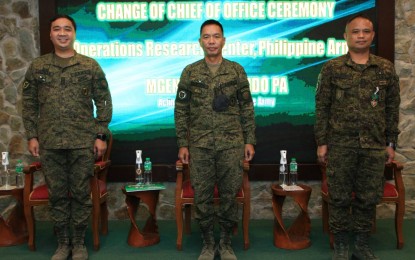 MANILA – Lt. Col. Angelo Guzman was named as the new chief of the Philippine Army's (PA) Operations Research Center (ORC), the unit in charge of the service's research initiatives.
Guzman took over the helm of the office in a turnover ceremony headed by PA acting chief-of-staff and concurrent Inspector General, Maj. Gen. Roy M. Gallido at the Army headquarters in Fort Bonifacio on Thursday.
"Let us do our best in fulfilling our main goal of transforming our organization into a modern and more responsive Army. I also enjoin the officers, NCOs (non-commissioned officers) and civilian human resources of Team ORC to support your new chief as you have supported Col. Cabunoc," Gallido said.
Guzman replaced Col. Harold Cabunoc, who has been serving as ORC head since June 2020.
The ORC is mandated to document data and information crucial in performing and sustaining Army operations through research, data management, and handbook production.
Guzman served as commanding officer of the 94th Infantry Battalion of the 3rd Infantry Division before being named as ORC chief.
He also held key posts such as executive officer of the 303rd Infantry Brigade, 3rd Infantry Division; public information officer of the Officer Candidate School and Armed Forces of the Philippines (AFP) Southern Luzon Command; and chief of the 9th Division public affairs office. Guzman is a member of the Philippine Military Academy Class of 1999.
He holds a Master in Public Management Major in Development and Security from the Development Academy of the Philippines.
Meanwhile, Cabunoc will serve as commandant of the Officer Candidate School, Training and Doctrine Command.
Cabunoc also held key posts such as executive officer of the PA's Office of the Assistant Chief of Staff; commanding officer of the 33rd Infantry Battalion, 6th Infantry Division in 2017; and executive officer of the Civil-Military Operations Battalion, 9th Infantry Division in 2011.
He was also sent to the United Nations Mission in Sudan for various foreign military assignments in 2008. Cabunoc was also designated as the Army Chief Public Affairs and the AFP Public Affairs Office Chief in 2011 and 2014, respectively.
He holds a Master's Degree in Public Administration from the Polytechnic University of the Philippines and Master of Military and Defence Studies from Australian National University.
He is a member of PMA "Bantay Laya" Class of 1994. (PNA)