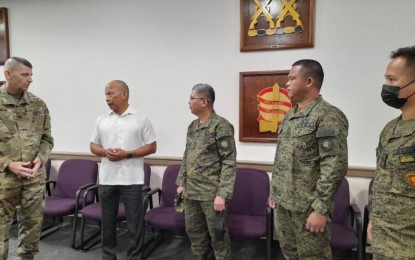 MANILA – The Philippine Army (PA) and the US Army Pacific (USARPAC) are eyeing a bigger version of the "Salaknib" training exercises next year.
In a statement Sunday, Army spokesperson Xerxes Trinidad said both the PA and USARPAC planning delegations reviewed the updated mission statement and area of operations, strategic objectives, exercise timeline, and scaling up of "Salaknib" during a meeting in Hawaii.
"The PA and the USARPAC are gearing to scale up the 2023 edition of the combined Salaknib exercise during the planning conference attended by delegations from both armies in Hawaii from June 27 to June 30, 2022," Trinidad said.
The militaries are expected to field more participants to train in a series of exercises. The number of participating Philippine and US units as well as the exercise area will be announced later.
"Salaknib," which means shield in Ilocano, is an annual bilateral combined exercise that aims to enhance the defense readiness of Filipino and American troops by developing tactical interoperability.
Around 2,200 Filipino and US Army troops trained in Central Luzon during the first quarter of this year, focusing on capability development of the 1st Brigade Combat Team, the PA's primary combined arms and rapid deployment unit.
The 20-day exercise started on March 5 this year.
Army commander Lt. Gen. Romeo Brawner Jr. earlier said the combined exercise is a testament to the "long-standing bilateral relations" between the Philippines and the US that will contribute to the "pursuit of a common goal of maintaining a free and open Indo-Pacific region." (PNA)