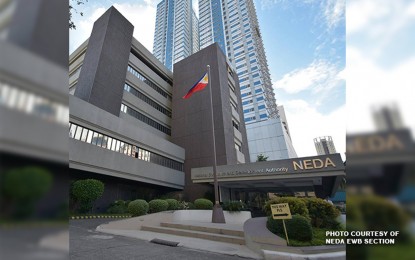 MANILA – The Philippine government is committed to ensuring a stable food supply and mitigating the impact of rising commodity prices amid the global energy crisis, the National Economic and Development Authority (NEDA) said.
As reported by the Philippine Statistics Authority (PSA) Tuesday, the country's headline inflation rate accelerated to 6.1 percent in June 2022 from 5.4 percent in the previous month.
This is within the Bangko Sentral ng Pilipinas' forecast range of 5.7 to 6.5 percent for June 2022.
"The government must immediately address logistical constraints to complement the government's Plant, Plant, Plant 2 program. As the country's inflation rate continues to increase, we must continue fast-tracking our policies to make sure that Filipinos can still travel to work and bring sufficient and healthy food to their tables," Socioeconomic Planning Secretary Arsenio Balisacan said in a statement.
Due to faster inflation in meat, fish, vegetables and rice, food inflation remained the main driver of the increase as it further climbed to 6.4 percent from 5.2 percent in May 2022.
The Livestock Development and Competitiveness (LDC) Bill is proposed to modernize the livestock, poultry, and corn sectors in the country.
Among the major provisions of the LDC Bill is the updating of the corn industry roadmap, along with the establishment of "competitiveness enhancement funds" for the livestock value chain.
Meanwhile, non-food inflation was recorded higher at 6 percent in June from 5.6 percent in the previous month. This was primarily driven by transport inflation's increase to 17.1 percent from 14.6 percent in May, led by volatile international crude oil prices.
To mitigate the impact of higher fuel prices among low-income households, the Department of Social Welfare and Development started the distribution of the first tranche of the Targeted Cash Transfer program on July 4, 2022.
To help alleviate the burden of high oil prices on qualified tricycle drivers, the Department of the Interior and Local Government announced that over 600,000 qualified tricycle drivers are set to receive fuel cash subsidies under the Pantawid Pasada Program for Tricycle Drivers.
The Libreng Sakay Program for all the passengers of the Edsa bus carousel has been extended until December 2022.
The Department of Transportation will implement Libreng Sakay for Students Program LRT-2 and the Philippine National Railways in the first quarter of the school year 2022-2023, or from Aug. 22, 2022 to Nov. 4, 2022 considering the resumption of face-to-face classes.
"To further conserve energy and ensure everyone's safety amidst the rising number of Covid-19 cases, we must also consider the need to promote alternative work arrangements where these have been proven effective and productivity-enhancing, as well as to encourage the use of alternative modes of transportation," Balisacan said.
"In the long term, alternative modes of transportation may alleviate transport fare pressures and reduce the reliance on global fuel. It will also promote greener and more sustainable transportation moving forward," he added. (PR)