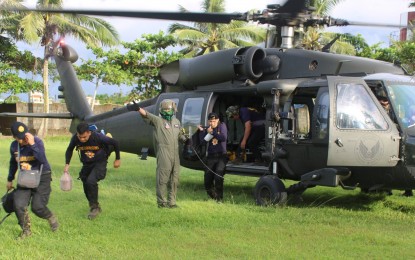 TACLOBAN CITY – The Philippine Army has urged the Commission on Human Rights to investigate the use of anti-personnel mines by the New People's Army (NPA) in Northern Samar that injured seven soldiers.
In a statement released on Wednesday, Col. Perfecto Peñaredondo, commander of the Army's 803rd Infantry Brigade, condemned the communist terrorist group for its blatant violation of the use of banned explosives.
"I urged the community and the local governments to condemn this dastardly act of the NPA terrorists and I also called the attention of the Commission of Human Rights to investigate these continuous violations of Human Rights, Ottawa Convention, International Humanitarian Law and Republic Act 9851 perpetrated by the NPA in Northern Samar," Peñaredondo said.
On Tuesday, at least seven soldiers were injured when NPA members detonated anti-personnel mines in the upland village of Magsaysay in Mapanas, Northern Samar.
Soldiers were patrolling the area when rebels detonated the mines around 6:15 a.m.
All soldiers, who suffered multiple injuries, are now in stable condition, according to the military.
After the explosion, the eight soldiers who escaped the blast engaged 20 NPA fighters in a 10-minute gun battle. The enemies fled since their firepower is weak.
Magsaysay village is about 13 kilometers away from the highway and the farthest community in Mapanas town.
It is considered a stronghold of the communist terrorist group after soldiers managed to rid several communities in Northern Samar province of NPA threats.
About 30 NPA fighters were sighted in the hinterlands of Magsaysay, identified as the remaining active platoon in the province.
The village is a recipient of a PHP63 million road project from the Office of the Presidential Adviser on the Peace Process funded in 2018 but was delayed due to NPA threats.
This was the second incident of NPA-detonated mines blast in Northern Samar this year.
On April 4, a roadside blast planted by the NPA killed two police officers and injured four others in San Miguel, Las Navas town.
Peñaredondo said the National Democratic Front (NDF), the self-proclaimed organizational representative of the NPA, should be held liable for not taking efforts to stop the NPA, its armed wing, from its continuing production, stockpile, transport, and use of "crudely manufactured mines."
The practice, according to the official, poses danger to the lives of the people in the communities where they lay the mines.
The Communist Party of the Philippines-NPA is listed as a terrorist organization by the United States, European Union, the United Kingdom, Australia, Canada, New Zealand, and the Philippines.
The Anti-Terrorism Council also formally designated the NDF as a terrorist organization on June 23, 2021, citing it as "an integral and inseparable part" of the CPP-NPA created in April 1973. (PNA)