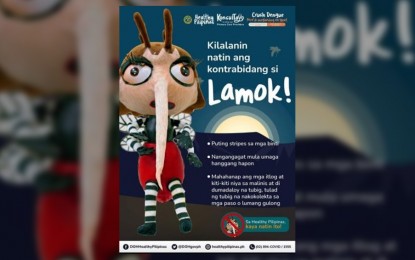 LEGAZPI CITY – Bicol logged 753 dengue cases from January 1 to July 2, 2022 or 98 percent higher compared with the 380 reported in the same period last year, the Department of Health in Region 5 (DOH-5) reported on Wednesday.
There were two recorded deaths during the same period this year but no available number of fatalities for 2021.
To prevent the spread of this mosquito-borne disease, the public is urged to strictly follow the 4S strategy -- Search and destroy mosquito breeding sites, use Self-protection measures, Seek early consultation, and Say "yes" to fogging when there is an impending outbreak or a hotspot.
"Everyone is reminded to keep the environment free
of mosquito breeding sites, especially with the onset of the rainy season," according to the DOH-5 report.
The regional health authorities likewise encouraged local government units to follow and implement policies and procedures to help prevent dengue in their localities.
They called for proper waste segregation, maintaining cleanliness, and continuing a strong information dissemination campaign to increase awareness among their constituents.
From June 19 to July 2, cases of dengue in the Bicol region were reported in Camarines Sur, Camarines Norte, Catanduanes, and Sorsogon while Masbate and Albay have zero cases.
Dengue fever is marked by the onset of sudden high fever; severe headache; and pain behind the eyes, muscles, and joints.

Some may develop rashes and varying degrees of bleeding in different parts of the body.

Dengue is transmitted by a day-biting mosquito that lays eggs in clear and stagnant water found in flower vases, cans, rain barrels, and old rubber tires, among others. The adult mosquitoes rest in dark places. (PNA)