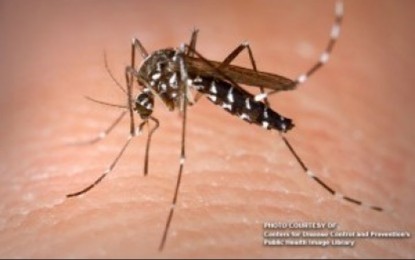 MALASIQUI, Pangasinan – The Provincial Health Office (PHO) has recorded 517 dengue cases from January 1 to July 4 this year, 77 percent lower than the 2,200 recorded in the same period last year.
PHO chief Dr. Anna Ma. Teresa de Guzman attributed the decrease to the improved awareness of the danger and prevention of dengue being conducted by the PHO.
"We are intensifying health promotion in the communities and rural health units, particularly in areas under monitoring," she said in a phone interview on Wednesday.
De Guzman said although the number of dengue cases is still low compared to last year, it can be observed that the number is now picking up with 144 recorded from July 1 to 4.
"Special lanes for dengue cases are already in place in the provincial government-run hospitals," she said.
There was one death recorded in Dagupan City, still lower than last year's two deaths.
The municipalities and cities under PHO's monitoring are San Carlos City with 60 cases, Calasiao town with 39, Sta. Barbara town with 34, Lingayen town with 31, Alaminos City with 27, Dasol town with 26, Malasiqui town with 24, Urdaneta City with 20, and Binmaley town with 19 cases.
Despite the decrease in the number of dengue cases, the Department of Health Center for Health Development in the Ilocos Region (DOH-CHD-1) has urged the public to remain vigilant against the disease by practicing the 4S, especially this rainy season.
Lariella Joy Daquioag, environmental and occupational health engineer of DOH-CHD-1, in a recent virtual forum, said the 4S includes searching and destroying mosquito breeding places, self-protection, seeking early consultation, and supporting fogging if there is clustering.
Daquioag advised the public to maintain the cleanliness of the surroundings.
"This includes cleaning of containers that could be breeding grounds for mosquitoes. It is not enough to throw the stock water but to also brush the container to ensure that even the eggs will be removed," she said.
Applying insect repellents approved by the health authorities is also encouraged to prevent dengue, she added. (PNA)