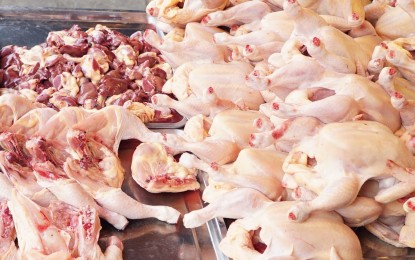 BACOLOD CITY – The Negros Occidental Provincial Veterinary Office (PVO) on Wednesday assured Negrenses of a sufficient supply of chicken amid reports of its increased prices in markets across the province.
"We should not worry since based on our monitoring, we are not lacking in chicken supply," Dr. Placeda Lemana, officer-in-charge of the OPV, told reporters.
Citing records of the National Meat Inspection Service, Lemana said Negros Occidental produces 1.6 million heads of chicken a month.
The data include 54,000 heads daily coming from accredited dressing plants alone, and along with production from the backyard and non-accredited producers, the province yields 70,000 to 75,000 heads per day.
Since the consumption requirement of Negros Occidental, including Bacolod City, is only estimated at 60,000 to 70,000 heads a day, the province still has a surplus in chicken supply, the PVO chief added.
Lemana said the prices of chicken also depend on the production cost, which is now higher especially for broilers since the prices of feeds have also increased.
"We have seen that production of growers has slowed down but still what they produce is still sufficient," she added.
In terms of egg supply, Lemana said that Negros Occidental has a slight deficit, based on data from the Philippine Statistics Authority.
She noted, however, that poultry raisers and layer farmers have declared the supply of eggs is sufficient in the province and they even sell the commodity to other areas. (PNA)