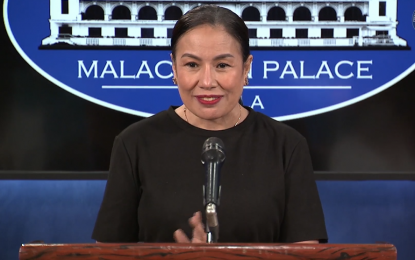 MANILA – President Ferdinand "Bongbong" Marcos Jr. can veto a bill passed by Congress during the past administration, Malacañang said on Wednesday.
"The President can veto, that is the stand," Press Secretary Rose Beatrix "Trixie" Cruz-Angeles said in a Palace press briefing.
This was after Senator Francis Escudero raised a "unique legal quandary" over Marcos' veto of a measure establishing a special economic zone and freeport adjacent to the proposed airport city in Bulacan province.
In a Twitter post on Sunday, Escudero said he is unsure if Marcos has the power to veto a bill "passed by the previous Congress" or the time when the sitting president was still his predecessor, former president Rodrigo Duterte.
"If he can't sign it (because the signatories will be composed of past/present officials that didn't serve at the same time), can he veto it? It('s) a unique legal quandary," he said.
Citing the 1987 Constitution, Cruz-Angeles said it is "very clear" that it has "no indication as to whether it is the sitting President or the former president who can sign bill into law."
"So, since there is no distinction made in the Constitution, neither do we make such a distinction," she said.
Marcos, in a letter sent to the Senate President and House of Representatives Speaker on July 1, announced his decision to veto House Bill 7575 or the proposed Bulacan Airport City Special Economic Zone and Freeport Act because of its provisions that "pose substantial fiscal risks to the country" and its "infringement on or conflict with other agencies' mandates and authorities."
Albay Rep. Joey Salceda said Monday that the House would introduce safeguards to address the fiscal and economic concerns regarding the measure creating the Bulacan airport ecozone.
Also on Monday, Cruz-Angeles said Marcos would give his full support once Congress "corrects" the flaws of the bill.
Marcos, in his veto message, said the enrolled bill "lacks coherence with existing laws, rules, and regulations," noting that it has no provisions for an audit by the Commission on Audit, procedures for expropriation of lands awarded to agrarian reform beneficiaries, and a master plan for the specific boundaries of the economic zone.
The proposed measure, he said, also grants the proposed economic zone authority "rule-making powers relative to environmental protection that is not found in the charter of other economic zones," as well as "blanket powers to handle technical airport operations in contravention of existing aeronautical laws."
Marcos added that the proposed economic zone is located "in close proximity" to the Clark Special Economic Zone, which is "against the government's policy on creating special economic zones in strategic locations."
He emphasized that the bill is in contrast to the government's objective of developing a tax system with low rates and a broad tax base, as it "will significantly narrow our tax base with its mandated incentives applicable to registered enterprises." (PNA)