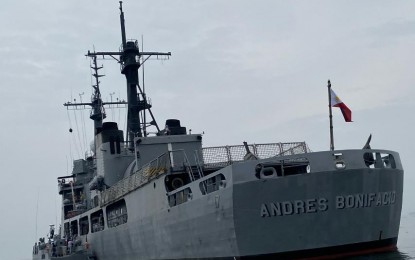 MANILA – The Philippine Navy's offshore patrol vessel BRP Andres Bonifacio (PS-17) is now ready to perform its territorial defense functions while assigned to the Puerto Princesa, Palawan-based Western Command (Wescom).
"She is ready to perform her territorial defense functions at WESCOM. PS-17 is indeed very mission-capable and I am confident that she will significantly strengthen our naval presence in the West Philippine Sea and secure our oil platforms," Wescom chief Vice Admiral Alberto Carlos said in a statement late Wednesday.
He was aboard the ship when it passed by the Galoc Oil Field which is located 60 kilometers northwest of Palawan. Galoc Field is one of the Department of Energy's service contracts which is being secured by Wescom, as well as the Malampaya Gas Fields and the Nido and Matinloc Oil Platforms.
Carlos was very satisfied with the performance of the vessel from Sangley Point in Cavite City to El Nido, Palawan.
Wescom covers the Palawan area and the West Philippine Sea. The ship was undergoing repairs to its mission-critical pieces of machinery before its deployment.
Carlos visited BRP Andres Bonifacio on July 4 and boarded the ship before the ship set course to the Wescom area.
The visit was also an opportunity for the Wescom chief to ensure the mission-readiness of all assets being deployed in the country's last frontier.
The ship arrived at Wescom joint operation area around 1:04 a.m. Wednesday after departing 1 p.m Tuesday off Sangley Point, Cavite.
The BRP Andres Bonifacio is one of the three Del Pilar-class ships which are the former US Coast Guard Hamilton-class cutters that were converted into frigates. Other ships of the class are the BRP Gregorio del Pilar (PS-15) and BRP Ramon Alcaraz (PS-16).
Each ship has a gross tonnage of 3,250 tons, a length of 378 feet, a beam of 43 feet, and a draft of 15 feet while its propulsion systems consist of two diesel engines and two gas turbine engines, giving it a top speed of 29 knots.
It has a cruising range of 14,000 miles, a sea and loiter time of 45 days, and is armed with a 76-mm. Oto Melara automatic cannon, 25-mm. and 20-mm. light cannons and .50-caliber machine guns. (PNA)