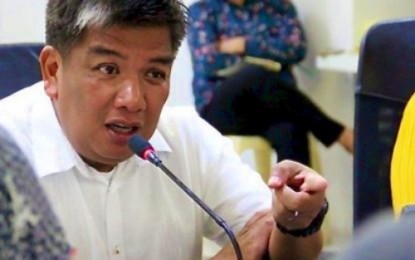 MANILA – A lawmaker on Thursday said a screening committee should be formed to make sure that all appointments to the 80-seat Bangsamoro Transition Authority (BTA) are based on "merit, proven competence, and unassailable integrity".
Basilan Rep. Mujiv Hataman said if President Ferdinand "Bongbong" Marcos Jr. decides to exercise his appointive power under the Bangsamoro Organic Law (BOL), he should form a screening panel of equally competent personalities who can vet candidates for the BTA appointments independently and free of any political influence.
"Nais natin na masiguro na ang mga uupo sa susunod na BTA ay may sapat at angkop na kakayahan para matugunan ang lahat ng pangangailangan ng Bangsamoro at ng mamamayan nito. Kaya ang aking mungkahi: masusing kilatisin ang sinumang maa-appoint dito (We have to ensure that those who will be sitting as members in the next BTA should have the right skills to address all the needs of the Bangsamoro and its constituents. That's why this is my suggestion: thorough assessment of anyone who will be appointed)," Hataman said.
Hataman said under the law, the BTA has 80 members appointed by the President who were earlier set to serve until 2022, the end of the transition period.
He, however, pointed out that the 18th Congress enacted into law Republic Act No. 11593 last year, which extended the transition period for the Bangsamoro Autonomous Region in Muslim Mindanao (BARMM) government from 2022 to 2025 and postponed the 2022 BARMM elections.
According to the new law, the President may exercise his powers to appoint new members of the BTA that will serve until June 30, 2025 or until the election of their successors.
Hataman said "equitable representation" should be one of the main guiding principles when appointing members of the BTA, noting that all areas, sectors and ethnicities should be properly represented in the BARMM transition government.
"Kailangan natin siguraduhin na walang madedehado (We have to make sure that no one will be at a disadvantage). There should be equitable distributions of seats. Hindi lamang ito BARMM ng iilan. Ito ay pamahalaan ng lahat nang nasa Bangsamoro (This is not just the BARMM of a selected few. This is a government for all living in the Bangsamoro)," he said.
Hataman earlier proposed a midterm review of the BTA's accomplishments to assess where the national government can provide additional support for the transition body's initiatives.
"We have to make sure that the BOL is implemented well," Hataman said. "We must ensure that the mandate of the transition authority covers all the areas of governance that will best benefit the people of the BARMM."
In his July 4 memorandum, BTA Speaker Pangalian Balindong has directed all members of the regional parliament to continue working amid a Palace memorandum order on presidential appointees or co-terminus personnel.
"BTA members of parliament may continue to hold office and discharge their functions beyond June 30, 2022," Balindong said.
Balindong cited Republic Act No. 11593, which states that notwithstanding the end of the term of President Rodrigo Duterte, all members of the BTA parliament are allowed to continue in office and discharge their official functions, duties, and responsibilities, consistent with the intentions of the law until June 30, 2025.
"This is without prejudice to the constitutionally-granted power of the current President to appoint a new set of BTA parliament within his term," he added.
The Memorandum Circular 1 declared as vacant "certain positions in the departments, offices, agencies, and bureaus in the Executive Department" effective noon of June 30, including "all Presidential appointees whose appointments are classified as co-terminus."
Minister Naguib Sinarimbo, a lawyer, clarified BARMM is not covered by MC1.
"We are an autonomous region with an asymmetric relation with the national government," Sinarimbo said. "The BTA, as the parliament combines the legislative and executive powers of the Bangsamoro government and is not under the executive." (PNA)