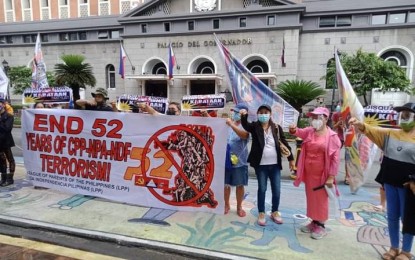 MANILA – The country cannot afford to lose the gains and momentum achieved by the National Task Force to End Local Communist Armed Conflict (NTF-ELCAC) during the Duterte administration.
Senator Ronald dela Rosa thus filed the ELCAC Act, one of his priority bills in the 19th Congress, to further equip the country in fighting insurgency and assure the continued destruction of the Communist Party of the Philippines - New People's Army - National Democratic Front (CPP-NPA-NDF) and its front organizations.
"I just want to achieve continuity of the ELCAC programs. Basically, this is just the same with the EO (Executive Order) 70 signed by (former) president (Rodrigo) Duterte. I just want to put it into legislation so that whoever sits as the President, it doesn't matter. The law is already there so the ELCAC programs will continue," he said in an interview with a news channel on Friday.
EO 70, signed in December 2018, created the NTF-ELCAC to "provide an efficient mechanism and structure for the implementation of the whole-of-nation approach to aid in the realization of collective aspirations for inclusive and sustainable peace."
It has 12 national clusters chaired by Cabinet Officers for Regional Development and Security (CORDS) in assigned regions.
"Almost all the front committees of the CPP-NPA-NDF, I think dalawa or tatlo na lang ang (just two or more are) remaining guerilla fronts ng (of) CPP-NPA-NDF that were not demolished by the Armed Forces of the Philippines. Almost all of their fighters have surrendered, went back to the fold of the law because of the efforts of NTF-ELCAC," dela Rosa added.
The ELCAC Act aims to institutionalize the inter-agency body, making it permanent despite changes in the national leadership.
National Security Adviser Clarita Carlos previously said she is in favor of the continuation of NTF-ELCAC.
"Yes! Kasi (Because) those are the ones that work eh. Hindi ba kadugtong 'yan ng (Isn't that part of the) local peace council," Carlos told Radyo Pilipinas in an interview.
She also expressed her desire to continue the negotiations with the insurgents while focusing on education, livelihood, and bringing more opportunities to residents of conflict-affected areas. (PNA)