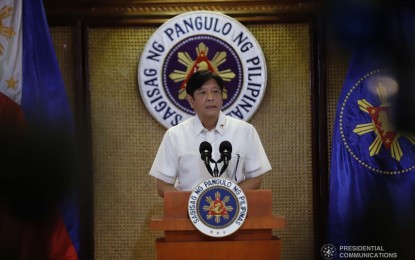 MANILA – President Ferdinand "Bongbong" Marcos Jr. on Friday expressed "shock and deep sadness" over the fatal shooting of former Japanese Prime Minister Shinzo Abe.
"It is with shock and deep sadness that I learned of the passing of former Prime Minister Abe Shinzo," Marcos said in a statement posted on his official Facebook account late Friday night.
Abe, 67, died in a hospital after he was shot while delivering a speech at a political campaign event on a street in the city of Nara on Friday morning.
According to reports, the suspect, identified as Tetsuya Yamagani, admitted to shooting Abe with a handmade gun.
Marcos paid tribute to Abe, acknowledging the former Japanese leader's key role in strengthening the ties between Japan and the Philippines.
"On behalf of the Philippine Government and the Filipino people, among whom he counts many friends and admirers, I offer my most profound sympathies to his family and the entire Japanese nation," he said. "He (Abe) was a devoted friend and a supporter of the Philippines, and it was during his leadership that the Philippine-Japan relations truly flourished."
Marcos also honored Abe for the "decisive and effective" assistance he had provided to the Philippines during the latter's tenure.
"The decisive and effective assistance he extended to the Philippines and the warmth he demonstrated in the numerous visits he made to our country will never be forgotten, and will be written as one of the most exceptional periods in our bilateral history," he said.
Marcos also hailed Abe for being a "visionary leader who saw Japan through its most difficult times."
He joined the world leaders in praying for Japan after Abe's assassination.
"I earnestly hope and pray for strength for the Japanese nation during this time of mourning," he said.
Former president Rodrigo Duterte, in a separate statement, also expressed "deep regret and profound sadness" over the untimely demise of Abe.
"I extend my sincerest condolences to his wife, Madame Akie, and family on this tragedy. I also join the Japanese People in mourning his loss and in condemning the senseless act of violence," Duterte said.
He recounted that Abe "was not just the first foreign leader to visit the Philippines after my election but was also the only foreign leader to visit my home in Davao City."
"For this, I will always hold him close to my heart and cherish the moments we have shared together," he said. "It is my hope that, as we remember his legacy, we will continue to learn and draw from his dedication to duty and remarkable leadership moving forward."
Abe was Japan's longest-serving prime minister, holding office from 2006 to 2007 and again from 2012 to 2020.
He stepped down in 2020 because of health reasons. He later disclosed that he had suffered a relapse of ulcerative colitis, an intestinal disease. (PNA)