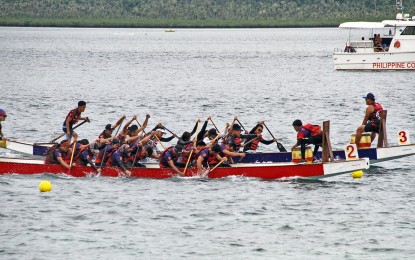 DAPA, Siargao Island – More than six months after the onslaught of Typhoon Odette, the town of Dapa in Siargao Island, Surigao del Norte has kicked off a major tourism and sports activity.
The "First Dapa Siargao National Dragon Boat Regatta 2022" started its first wave of competitions on Saturday morning.
"The is the first big event in Siargao Island after we were hit by Typhoon Odette in December last year," Mayor Elizabeth Matugas said in her opening remarks during the presentation of teams.
A total of 21 dragon boat teams nationwide are entered, including those from the Philippine Army and Navy. They will vie for PHP475,000 in cash prizes.
Data from the Department of Tourism-13 (Caraga) showed that at the height of the Covid-19 pandemic and the implementation of health protocols in 2020, tourist arrivals in Siargao slipped to 67,717 (49,681 domestic and 18,036 foreign).
No domestic and foreign arrivals were recorded on the island in April, May and October 2020.
The number further dipped to 55,840 in 2021 (28,287 domestic and 27,553 foreign).
In 2019, there were 257,900 arrivals (183,042 domestic and 74,858 foreign).
From January to March this year, there were 1,108 arrivals (953 domestic and 155 foreign) and increased in April and May with 8,141 (7,292 domestic and 849 foreign).
"We will try our best to raise the level of competition to international level next year," Matugas said. (PNA)