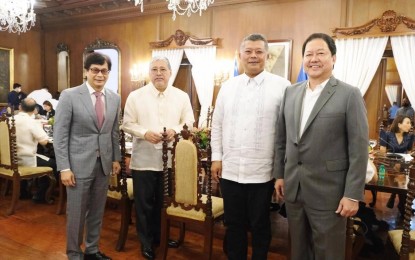 MANILA – The need to fine-tune the use of government resources is the sole reason for the Palace's decision to deactivate the Presidential Anti-Corruption Commission (PACC).
Solicitor General Menardo Guevarra said during their first Cabinet meeting on July 5 that President Ferdinand Marcos Jr. gave all of them a free hand in reorganizing their agencies and streamlining operations to promote a more efficient allocation of scarce government resources.
"I think the deactivation of the PACC was along that line, but surely it was not because the PACC was ineffective," Guevarra said in a statement over the weekend.
He also pointed out that "as former Justice secretary, I had a meaningful collaboration with the PACC in the overall campaign against corruption in government."
Based on Executive Order (EO) 1 signed on June 30, the day of his inauguration, Marcos abolished the PACC and the Office of the Cabinet Secretary to achieve "simplicity, economy, and efficiency" in the bureaucracy.
Marcos said the administration endeavors to achieve "a comprehensive and meaningful recovery through a just allocation of resources and a simplified internal management and governance of the Office of the President and its immediate offices and common staff support system."
Press Secretary Trixie Cruz-Angeles likewise said during Friday's Palace press briefing that the PACC has been abolished because it is "not in line with streamlining."
"First of all, its nature is investigative, which can also be conducted by the Office of the Ombudsman. So, usually, what they do is they gather evidence on presidential appointees and file the case with the Ombudsman," she said.
According to EO 1, "the Deputy Executive Secretary for Legal Affairs shall promulgate rules of procedure in administrative cases under its jurisdiction; provided that the existing rules of procedure in administrative cases promulgated by the Presidential Anti-Corruption Commission shall remain in force unless otherwise repealed or amended."
The winding-up of the operations and disposition of the functions, positions, personnel, assets, and liabilities of the PACC will be administered by the Executive Secretary. (PNA)