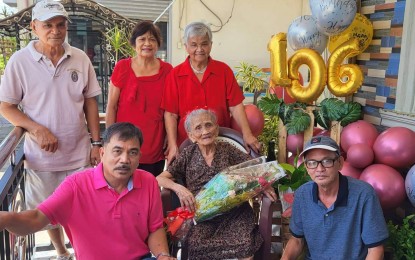 CALASIAO, Pangasinan – Surrounded by some of her children, grandchildren, and great-grandchildren, Bae (grandma) Segundina Laforteza Quinto celebrated her 106th birthday on Sunday.
While everyone was into the latest fab on diet, exercise, technology, and science, among others, to extend their life span, Segundina attributed her long and happy life to faith in God and prayer.
"Do not forget to pray, pray, pray," she said in a phone interview on Monday.
Segundina said she has been praying daily including the rosary, angelus, and novena.
This helped her in raising 10 children with his husband Joaquin, who died at 84.
She now has 39 grandchildren and 64 great-grandchildren.
Racquel Quinto Untalan, one of her grandchildren, said their grandmother's faith has been a huge encouragement to their family, especially during the pandemic.
"Despite the trials and challenges that have happened in the family, having a Christ-centered home always gives the family unity and harmony that we desired," she said.
She added their grandmother always reminds them to pray and love each other.
Segundina still does stretching as a form of exercise on the terrace of their house in this town.
Segundina said she is also conscious and gives importance to what she eats.
"We have to be aware of our health. Eat plenty of fruits and vegetables," she added.
Gerald Quinit, one of her grandchildren, said they eat products of their farm as their Laki (grandfather) Joaquin was a farmer.
Gerald has followed the footsteps of his grandfather, who is active in agriculture leading a young farmers' group and managing their family farm here.
Although Segundina's memory is slowly fading, she would still narrate to her children and grandchildren her memories of the Japanese invasion.
"She would always tell us the story of how the Japanese soldiers arrived during the harvest season of tomatoes in their field and they would hide. They sort of having this secret passage (tunnel) where they would hide until the Japanese soldiers were gone," Gerald said.
Segundina indicated her contentment in life for having reached 106 years.
"I have no more aspirations. This long life I have, I am already so grateful (to God) for it," she said.
Segundina has been an awardee of incentives from the local government units, national government agencies, and provincial government of Pangasinan for being a living centenarian. (PNA)