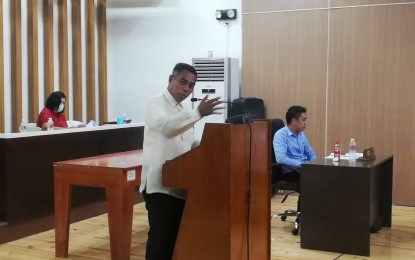 SAN JOSE DE BUENAVISTA, Antique – The Provincial Board on Thursday placed Antique under a state of calamity due to dengue cases reported in all of its 18 municipalities.
The board, during its regular session, unanimously approved the resolution filed by its member Pio Jessielito Sumande Sr. for the province to be placed under a state of calamity, considering a total of 1,575 cases with six deaths reported from January to July 9.
The figure is 556 percent higher than last year's 241 patients including two deaths for the same period.
The resolution was approved upon the request made by the Provincial Disaster Risk Reduction and Management Council (PDRRMC) on July 12.
Sumande said with the declaration of the state of calamity, Antique Governor Rhodora J. Cadiao is now authorized to determine an appropriate budget from the remaining Quick Response Fund (QRF) for dengue prevention and response programs.
Antique Integrated Provincial Health Officer (IPHO) Dr. Ric Noel Naciongayo, who was invited to appear at the provincial board session, said they are requesting a total amount of PHP12.7 million to purchase needed equipment such as misting machines, spray cans, insecticides, and chemicals for vector control.
"We also need dengue duo kits for diagnosis and intravenous fluids for treatment," he said.
The IPHO is also eyeing to provide the local government units with the same resources to curb the spread of dengue.
Although, all the 18 municipalities in the province have reported dengue cases, most of the patients are from the five towns of San Jose de Buenavista with 355 cases and one death, Sibalom with 266 cases with one fatality, Hamtic with 180 cases with two deaths, Bugasong with 170 cases with one death, and Anini-y with 107 cases.
The other death was reported in Patnongon town with 56 dengue cases.
The towns of Sibalom and Anini-y have previously been placed under a state of calamity by their respective municipal councils. (PNA)