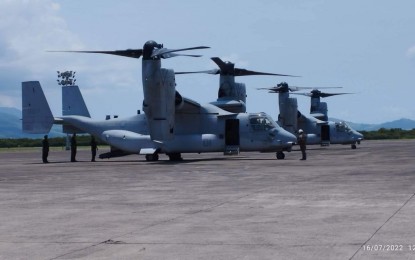 MANILA – The Philippine Marine Corps (PMC) and the US Marine Corps (USMC) will conduct specialized helicopter drills from July 18 to 22.
PMC spokesperson Maj. Emery Torres, in a statement Sunday night, said these exercises are the second part of the Marine Aviation Support Activity (MASA) 2022.
The first phase of the exercises took place from June 6 to 17.
"The second part of MASA 2022 between the PMC and USMC will be conducted in Zambales and Taguig City from July 18 to 22, 2022. This will include helicopter rope suspension training and aeromedical evacuation training," he added.
The PMC and USMC are expected to execute and refine their tactics, techniques, and procedures for interoperability.
The first part of MASA 2022 took place in Palawan and included a combined joint forward arming and refueling demonstration, and a lecture on unmanned air systems operations.
Four C-17 transport aircraft of the US Air Force arrived in Laoag City on June 6 along with a US C-130 cargo plane that landed on June 7 carrying personnel and equipment for the second leg of the exercise from July 18 to 22.
This series will feature lectures on sensor operations, air surveillance, air defense, and high-mobility artillery rocket system infiltration.
The MASA 22 also includes integrated and joint interoperability activities, such as coastal defense forward arming and refueling and subject matter exchanges for unmanned aviation systems and engineering with participants from the Naval Air Wing of the Philippine Navy and the Philippine Air Force. (PNA)