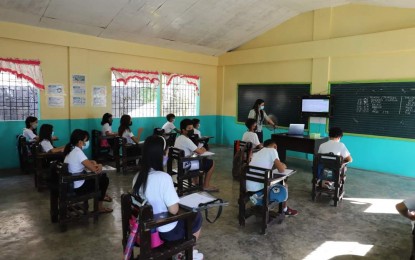 MANILA – Senator Robin Padilla on Monday emphasized the need to revive the Philippine history as a subject in the K-12 curriculum of the Department of Education (DepEd).
This, after the actor-turned-senator learned that many young Filipinos do not know that there was a Philippine-American war.
"Nagugulat sila. Merong isang TV program di alam sino si GOMBURZA [Mariano Gómez, José Burgos, and Jacinto Zamora], di alam sino si Apolinario Mabini. Dapat progressive. Siyempre Grade 1 di pwede turuan tungkol sa revolution. High school na yan (They were shocked. There is one TV program where a contestant does not know GOMBURZA, does not know who is Apolinario Mabini. It should be progressive. Of course, Grade 1 should not be taught about revolution. That's for high school," Padilla said in a media interview.
"Ang akin naman magsentro tayo sa PH history kasi ang PH history dito imposibleng di mapag-usapan ang Asian at World History (For me, let's focus on Philippine history because Asian and world history will be also be discussed in the Philippine history subject)," he added.
Last January, the DepEd said Philippine history is still being taught in the K-12 curriculum through the "Araling Panlipunan" (AP) subject.
"The current AP curriculum covers various Philippine history topics across grade levels. These topics also serve as take-off points in all discussions relative to Asian studies, World History, Economics, and Contemporary issues in Junior High School and Understanding Culture, Society and Politics, and Philippine Politics and Governance in Senior High School," the DepEd statement read.
The DepEd assured that stories of inspiring Filipinos and monumental Philippine events will continue to be ingrained in their books and during classroom discussions for years to come.
"Ang gusto ko lang magsentro sa atin. Kasi pag di natin sinanay ang ating kabataan na alam nila saan ang ugat nila, parang puno yan, kahit mahinang hangin, babagsak yan, (What I want is discussion should focus about us. Because if we do not teach our children about their origins, it's like a tree that even a slow wind can make it fall)," Padilla said.
Senator Sherwin Gatchalian, incumbent chair of the Senate committee on basic education, said he will set an inquiry in the 19th Congress in a bid to introduce amendments to Republic Act 10533 or the "Enhanced Basic Education Act of 2013", otherwise known as the K-12 law. (PNA)