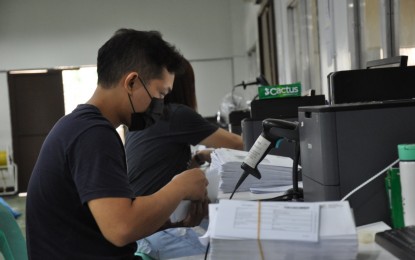 MANILA – The Philippine Postal Corporation (PHLPost) said Monday it is coordinating with concerned barangay offices to organize a weekend "plaza-type" distribution of unclaimed Philippine Identification (PhilID) cards.
In a Laging Handa briefing, Postmaster General and chief executive officer (CEO) Norman Fulgencio, said all unclaimed PhilIDs during the first and second house-to-house delivery attempts will be scheduled for a weekend 'plaza-type' distribution.
"Meron tayong ginagawa schedule sana on a Sunday maipatawag ng kapitan na mai-organize para lahat noong mga nasa partikular na area na yun mai-deliver natin yung ating mga IDs doon sa plaza, basketball courts, o barangay hall (We are conducting a Sunday schedule wherein we are coordinating with barangay captains to organize a delivery of PhilIDs within their respective plazas, basketball courts, or within their barangay halls)," Fulgencio said.
He said the PHLPost would try to send the PhilIDs up to three times, including the 'plaza-type' distribution, to those owners who were not home during the first and second attempts of delivery.
Fulgencio advised the public to track their PhilIDs on the PHLPost portal https://tracking.phlpost.gov.ph.
Some 14,033,000 physical cards have been delivered to owners as of July 8.
Fulgencio said there are still 700,000 PhilIDs that are scheduled for delivery.
So far, the Philippine Statistics Authority (PSA) has registered 74 percent or 68.3 million out of its 92 million targets as of June 30.
Former president Rodrigo Duterte signed the Philippine Identification System (PhilSys) Act or Republic Act 11055 in August 2018, allowing Filipinos to acquire a PhilID which aims to boost seamless government and private services where they will only need to present one ID during transactions.
The PhilID shall be a valid proof of identity and a means of simplifying public and private transactions, enrollment in schools, and opening of bank accounts. (PNA)