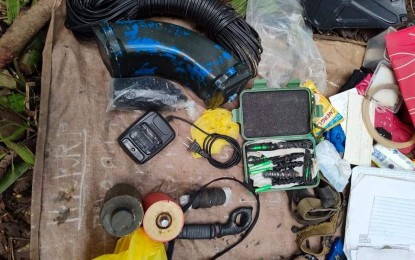 TACLOBAN CITY – A soldier died while five others were wounded on Tuesday when the New People's Army (NPA) detonated anti-personnel mines in the remote Osang village in Catubig, Northern Samar.
Lt. Col. Joemar Buban, commander of the Army's 20th Infantry Battalion, said the incident occurred 9:25 a.m. within a coconut farm just a kilometer away from a nearby community.
"There was a 15-minute clash after the explosion, and our troops are still finding out the number of casualties from the enemy side. We are sending our air assets to evacuate the blast victims," Buban said in a phone interview.
The fatality and injured soldiers were among the 24 troopers patrolling the vicinity belonging to the Community Support Program team assigned in Osang and Nagoocan villages.
CSP is a flagship program of the Armed Forces of the Philippines used to clear communities of NPA infestation and to bring the government closer to the people through faster delivery of basic services.
"The said terrorist attack is a clear violation of the Ottawa Convention (Mine Ban Treaty) that prohibits the use, stockpiling, production, and transfer of anti-personnel landmines. Planting mines in a coconut is not dangerous to our soldiers, but to locals as well since it was planted near a community," Buban added.
The attack occurred just two weeks after the July 5 explosion that injured seven soldiers in Magsaysay village in Mapanas, Northern Samar.
Earlier, Maj. Gen. Edgardo De Leon, commander of the Philippine Army's 8th Infantry Division said they are stepping up their fight against the communist movement in the mountains of Northern Samar as they hunt culprits behind the recent detonation of anti-personnel mines.
The recovery of three bodies of members of the NPA last week was the result of the use of air assets in their pursuit operations.
The three unidentified terrorists - two males and a female - were killed during the government troops' pursuit operation near the borders of Northern Samar and Samar provinces.
The Communist Party of the Philippines (CPP)-NPA is listed as a terrorist organization by the United States, the European Union, the United Kingdom, Australia, Canada, New Zealand, and the Philippines.
The Anti-Terrorism Council also formally designated the NDF as a terrorist organization on June 23, 2021, citing it as "an integral and inseparable part" of the CPP-NPA created in April 1973. (PNA)