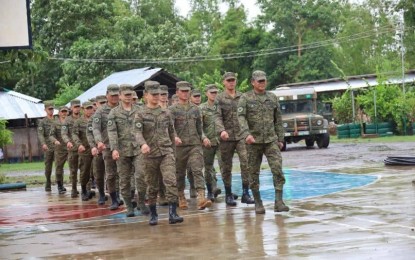 DUMAGUETE CITY – The 11th Infantry Battalion of the Philippine Army based in Siaton, Negros Oriental welcomed the arrival of more troops to fight insurgency and promote peace and development in the province.
A former member of the Communist Party of the Philippines-New People's Army (CPP-NPA) who has become a full-fledged soldier was among the 18 servicemen that arrived at the battalion headquarters in Barangay Salag, Siaton on Monday afternoon.
Lt. Col. Roderick Salayo, 11IB commanding officer, said on Tuesday the ex-NPA rebel had gone through the right processes before enlistment.
"We gave the new enlisted personnel with the rank of 'private' a welcome ceremony as part of the Philippine Army's tradition to make them feel that they are now officially a part of our family," he said in mixed English and Cebuano.
Salayo declined to give details about the former rebel, saying it might compromise their operations and for security reasons.
He, however, said the former rebel will be a big boost to the operations to prevent the NPA's Southeast Front (SEF) recovery efforts.
The SEF, operating in the south and central Negros Oriental, was declared dismantled by the military with only a handful of its members remaining, but Salayo said efforts to regain their mass base continue in the hinterlands.
One of the newly-assigned soldiers to the 11IB is also from Sta. Catalina town in Negros Oriental, where some of its barangays are still affected by the insurgency, Salayo said.
"The new soldiers will also support our campaign in line with the Task Force to End Local Communist Armed Conflict under the whole-of-nation approach to end the insurgency," he said.
Salayo stressed the need to sustain the collaboration and coordination with the local government officials on the development of their respective areas to improve basic services and improve the economic status of Negros Oriental to prevent the people from joining the underground movement.
The CPP-NPA is listed as a terrorist organization by the United States, European Union, the United Kingdom, Australia, Canada, New Zealand, and the Philippines.
The National Democratic Front has been formally designated as a terrorist organization by the Anti-Terrorism Council on June 23, 2021, citing it as "an integral and inseparable part" of the CPP-NPA created in April 1973. (PNA)