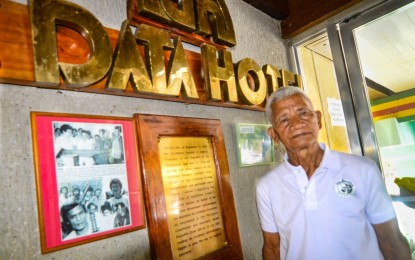 MANILA – The Office of the Presidential Adviser on Peace, Reconciliation and Unity (OPAPRU) is mourning the death of a Kalinga tribal peace builder "who selflessly worked hard" for the benefit of the indigenous people.
OPAPRU chief Secretary Carlito Galvez Jr. said Pedro Magannon Abbacan Sr., a Kalinga pangat (respected elder), worked to pursue the peace process in the Cordillera region.
Abbacan, who died July 12 at 89, was one of the key figures in the historic signing of the Mount Data Peace Accord between the Philippine government and Cordillera People's Liberation Army (CPLA) on Sept. 13, 1986.
He was buried July 15 in his hometown of Barangay Bangad, Tinglayan in accordance with indigenous traditions.
"Abbacan's death is a major loss to the peace process with the CPLA. His legacy should inspire all of us to persevere even more to achieve our collective goal of uplifting the lives of our Cordilleran brothers and sisters, and bringing a just and lasting peace to all Filipinos," Galvez said in a statement on Tuesday.
Thomas Killip, OPAPRU consultant, said Abbacan transcended his role as an elder of the Cordillera Bodong Administration (CBA), the political arm of the CPLA, following the signing of the peace pact.
"He worked selflessly for people, not for himself. People like him give meaning to the work we do," Killip said in a separate statement.
The CPLA, led by Fr. Conrado Balweg, heeded the call for peace by then President Corazon Aquino through the forging of the sipat (peace agreement) in Bauko, Mountain Province.
The CBA broke away from the New People's Army, also in 1986.
The OPAPRU said Abbacan was actively involved in pushing for the Cordillera people's ultimate aim of genuine autonomy.
"He was unschooled in formal education but his wisdom as a pangat was renowned and respected in Kalinga," recalled former Tinglayan vice mayor Samuel Calbuyao in a statement.
Abaccan proposed the construction of a hanging bridge connecting the community to the rice fields across the Chico River in December last year.
The project was approved and is set to be included in the annual list of OPAPRU's Payapa at Masaganang Pamayanan Program (Peaceful and Abundant Community Program) projects for 2023. (PNA)