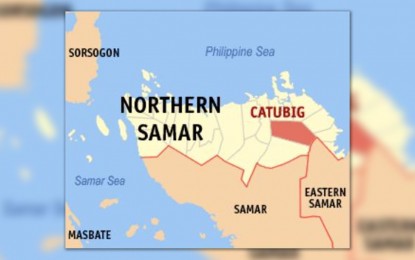 TACLOBAN CITY – The detonation of anti-personnel mines in Northern Samar is a manifestation of the New People's Army's (NPA) opposition to the implementation of the Barangay Development Program (BDP), an official of the Philippine Army said on Wednesday.
Lt. Col. Joemar Buban, commander of the Philippine Army's 20th Infantry Battalion, on Wednesday said the attack of the communist group on the soldiers belonging to the Community Support Program (CSP) was a strategy to delay projects since these soldiers are tasked to secure BDP projects.
BDP projects are socioeconomic development undertakings geared towards the provision of farm-to-market roads, health centers, electrification, water and sanitation facilities, schools, and livelihood.
Buban said Osang village in Catubig town, Northern Samar where the NPA planted the mines is a recipient of a PHP20-million BDP funded by the central government.
Among these projects are infrastructure, agriculture, livelihood programs, and handicraft training.
"We deployed our CSP teams to ensure smooth delivery of basic social services without being hampered by the NPA's extortion and intimidation, but they were attacked. Due to the presence of insurgents, the implementation of projects and livelihood programs were delayed in Osang village," Buban said in a phone interview.
CSP is a flagship program of the Armed Forces of the Philippines used to clear communities of NPA infestation and to bring the government closer to the people through faster delivery of basic services.
The official issued the statement a day after a soldier died and five others were wounded when the New People's Army (NPA) detonated anti-personnel mines in the remote Osang village in Catubig town.
The incident occurred 9:25 a.m. within a coconut farm just a kilometer away from a nearby community.
The detonation of mines is a violation of the Ottawa Convention (Mine Ban Treaty) that prohibits the use, stockpiling, production, and transfer of anti-personnel landmines.
The attack occurred just two weeks after the July 5 explosion that injured seven soldiers in Magsaysay village in Mapanas town, Northern Samar.
The attack, according to Buban, shows that the NPA is against development since the improvement in communities means losing their source of food and funds.
In the past six months, the communist terrorists have stopped receiving financial support and food supplies from communities with the rollout of development initiatives, said Maj. Gen. Edgardo de Leon, commander of the Philippine Army's 8th Infantry Division, in an earlier interview.
The official said an NPA platoon in Northern Samar used to solicit PHP175,000 monthly contributions from residents, village officials, and small businesses aside from around 64 sacks of rice from local farmers.
The Communist Party of the Philippines (CPP)-NPA is listed as a terrorist organization by the United States, the European Union, the United Kingdom, Australia, Canada, New Zealand, and the Philippines.
The Anti-Terrorism Council also formally designated the National Democratic Front as a terrorist organization on June 23, 2021, citing it as "an integral and inseparable part" of the CPP-NPA created in April 1973. (PNA)