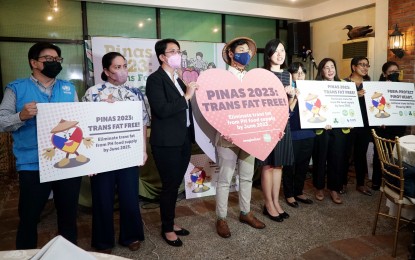 MANILA – The Department of Health has reminded food companies to reformulate and remove industrially produced trans fatty acids (TFA) from their products by June 18, 2023.
In a media forum in Quezon City on Wednesday, Department of Health Undersecretary for Public Health Services Team Beverly Ho said non-communicable diseases (NCDs) such as cardiovascular disease have been one of the leading causes of death in the country.
According to the World Health Organization (WHO), about 2.64 percent of deaths from coronary heart disease or blockage of the heart's blood supply were due to fatty substance build up in the coronary arteries and attributed this to TFA.
TFA is defined as manufactured fats during hydrogenation -- a process which stabilizes polyunsaturated oils to prevent them from becoming stale and keep them solid at room temperature.
"Yet, TFA is used in various baked and pre-packaged food products," Ho said. "To address this, last July 2021, the DOH issued Administrative Order No. 2021-0039, the national policy to eliminate industrially-produced TFA from our food supply."
Food and Drug Administration Director Pilar Marilyn Pagayunan said they fully support the department's campaign to remove industrially produced TFA from the food supply to prevent and control NCDs.
"The FDA recognizes the crucial role of food business operators' compliance in achieving the country's goal of eliminating industrially produced TFA , thus it has issued FDA Circular No. 2021- 0028 on Guidelines for Prepackaged Processed Food Products," she said.
The circular also guides the food business operators producing prepackaged processed food on transition period which is expected to last until June 18, 2023.
"Thereafter, FDA will include the monitoring of TFA in fats, oils and other processed foods in the annual post marketing surveillance plan for the monitoring of regional field offices inspectorate to check on the sustained compliance of the food business operators to ensure TFA is no longer in the market's processed food supply chain, otherwise appropriate regulatory action shall be imposed," she added.
Imagine Law Executive Director Sophia San Luis, a public interest group, said TFA could also be eliminated by creating an environment that promotes healthy choices for Filipinos.
"Heart disease is not only the leading cause of death for Filipinos, it also leads to more severe Covid-19 outcomes. By eliminating TFA, we are one step closer to building a healthy and resilient Philippines," she said.
All product formulations and labels of prepackaged processed food with industrially-produced TFA must comply with the guidelines stated in the DOH Administrative Order No. 2021-0039 and the FDA Circular No. 2021- 0028, Pagayunan said.
Violation of any of the provisions of the administrative order and the FDA circular would be grounds for the disapproval, suspension or cancellation of the certificate of product registration of concerned food manufacturers. (PNA)