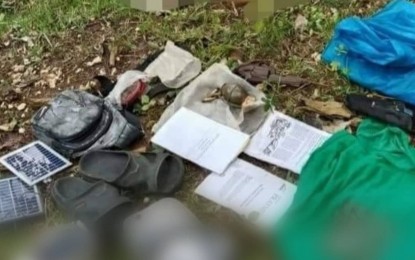 DUMAGUETE CITY – A fighter of the Communist Party of the Philippines - New People's Army (CPP-NPA) was killed in an encounter with Army troops of the 62nd Infantry Battalion (62IB) in Barangay Sandayao, Guihulngan City, Negros Oriental on Wednesday morning.
A report from the 62IB said the troops exchanged gunfire with about five guerillas in Sitio Taluktok for about five minutes, after which they recovered the body of the slain rebel identified as Pompeo D. Landesa, 56, a resident of Sitio Dako in the same village.
Landesa was a member of the NPA's Central Negros 1 (CN1) under the Komiteng Rehiyon Negros/Cebu/Bohol/Siquijor and was involved in various murder cases and violations of Republic Act 10591 or the Comprehensive Law on Firearms and Ammunition, the Army report said.
Meanwhile, seized after the encounter were a KG-9 semi-automatic firearm loaded with one magazine; one caliber .357 Magnum revolver loaded with three rounds of ammunition; one hand grenade; and suspected subversive documents.
In an interview with the Philippine News Agency (PNA), Brig. Gen. Inocencio Pasaporte, commander of the 303rd Brigade based in Murcia, Negros Occidental, said the troops were acting on information from civilians on the presence of armed men in the area who were conducting extortion activities.
"This latest encounter is an indication that people are supportive of government efforts to crush the insurgency and they are getting tired of the presence of the NPA in their communities, especially as they have already experienced relative peace," Pasaporte said in the Ilonggo dialect.
He also said the Armed Forces of the Philippines, through the Philippine Army, and the Philippine National Police are continuously coordinating to prevent the NPA from taking back the area, which has been cleared of insurgency.
The CN 1 is now considered a "weakened" guerilla front with 30 to 40 members remaining, Pasaporte said.
He called on the remaining NPA rebels to give up the armed struggle and surrender so they could avail of the government's Enhanced Comprehensive Local Integration Program, which could help them start a new life.
The CPP-NPA is listed as a terrorist organization by the United States, the European Union, the United Kingdom, Australia, Canada, New Zealand, and the Philippines.
(PNA)