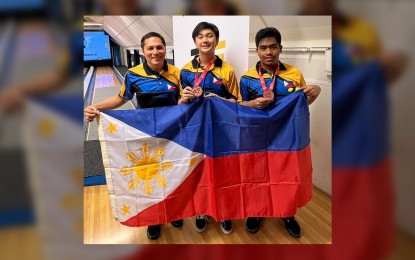 MANILA – The Philippines will send 16 athletes to the 21st Asian Junior Tenpin Bowling Championships scheduled from Aug. 14 to 20 at the Blu-O Rhythm and Bowl Ratchayothin in Bangkok, Thailand.
Stephen Luke Diwa, who won the doubles bronze medal with Marc Dylan Custodio at the IBF Under-21 World Championships in Helsingborg, Sweden last month, will lead the Filipino keglers set to leave on Aug. 13.
Diwa will be playing alongside Zach Ramin, Justin Dinham and Kurt Anthony Capellan (Team 1) in the boys division, while John Raphael Besana, Sydmond Juille Vista, Kiel Andrey Barbosa and Christian Trespicio are in Team 2.
Participating in the girls division are Michaela Jayne Gutierrez, Grace Ann Hernandez, Kassandra Denise Yap and Juliane Chelsea Santos (Team 1); Kysha Nicole Agujo, Antonette Garcia, Nomie Juayne Rosario and Tracey Carlyn Tan (Team 2).
The athletes will be accompanied by coaches Engelberto "Biboy" Rivera, Josephine Canare, Chris Batson, Billy Lopue and Ariel Yelo.
The 17-year-old Diwa became a member of the national youth pool in 2019, the same year he won the Philippine Open and Baguio Open. He has also competed in Japan, Hong Kong and Malaysia.
"I learned a lot from my experiences in those tournaments and with that experience, I applied it when I was competing in Sweden," said the Grade 12 student from Southville International School in Las Piñas.
Diwa promised to do his best in the Asian Juniors next month, saying "I will give my 100 percent execution in every shot. I will stay focused every game, have fun and learn from the experience".
He looks up to American Kristopher Prather, who won the Professional Bowlers Association (PBA) World Championship last March, and coach Rivera, a world champion and Asian Games gold medalist. (PNA)