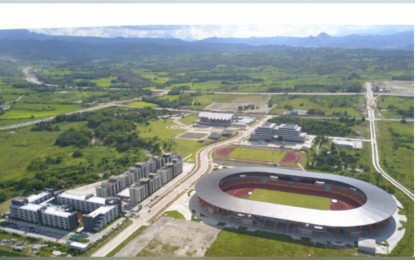 MANILA – The Bases Conversion and Development Authority (BCDA) is inviting investors to look into opportunities in New Clark City as the agency's biggest land development is positioned to be the next top tourist destination in Luzon.
In a statement Thursday, BCDA senior vice president Joshua Bingcang said the agency is open to tourism investments in New Clark City both from foreign and local firms.
"Given its strategic location, rich biodiversity and vast open spaces, it is the perfect place for eco-theme parks and ecotourism projects," he said.
Bingcang added the New Clark City is a promising tourist and investment destination in the region as the development is planned to be the country's first smart and disaster-resilient city.
Surrounding infrastructure projects, both existing and in the pipeline, also make New Clark City an accessible destination for travelers.
These infrastructures include Clark International Airport, with its new passenger terminal became operational last May; the North-South Commuter Railway that will extend up to New Clark City; and road infrastructures currently being developed around the area, such as New Clark City to Subic-Clark-Tarlac Expressway Access Road and the New Clark City to Clark Airport Access Road.
The BCDA also aims to develop a public transportation system within the New Clark City.
Aside from road and transport infrastructures, the New Clark City stands to benefit from the Luzon Bypass Infrastructure Project (LBIP) of BCDA and the Department of Information Communications and Technology (DICT), where special economic zones including Clark and New Clark City will be equipped with fast internet services at 500,000 megabytes per second annually.
"We are already getting there. We've accomplished much of the infrastructure development. Our roads are already complete. The national government said let's do all the design in accordance with the long-term requirement. We should already future-proof it," Bingcang said.
New Clark City is BCDA's largest land development with a total of 9,450 hectares.
The agency plans to only build on 40 percent of the total land area and leave 60 percent for forests, open spaces, and parks.
"Currently, New Clark City is already home to the 4.5-hectare River Park, which features a 1.4-kilometer walkway along the Cutcut River. There are also plans to develop the 44.8-hectare Central Park at the heart of the city, which will be one of the largest public parks in the country once completed," BCDA said.
Based on BCDA's website, the New Clark City project started in January 2016 and is expected to be fully developed in 50 years. (PNA)