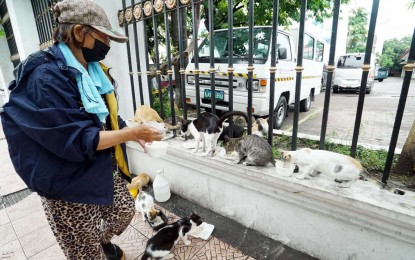 MANILA – An elderly citizen and her daughter proved that unwavering love and compassion for animals are possible amid uncertainties and one's status in life.
Erlinda Dela Cruz, 69, and daughter, Rhoda, feed about 40 stray cats and dogs daily.
Residents and daily passersby are familiar with their feeding program at the corner of Tayuman and Katamanan Streets in Tondo, Manila.
Even if they themselves hardly make both ends meet, it has been their resolve to provide meals at least once a day to the stray animals since the start of the coronavirus disease 2019 (Covid-19) pandemic in 2020.
"I come here everyday to feed them since the pandemic started. No one cares. When I have extra money, I buy them food," Erlinda said in Filipino in a recent interview with the Philippine News Agency.
Rhoda said she and her mother usually loiter separately from 7 a.m. to 12 noon and 10 p.m. to 2 a.m. along Jose Abad Santos Avenue and around Immaculate Conception Parish or in front of a nearby grocery story on Yuseco Street for stray feeding.
They also rescue sick dogs and newly born kittens and raise them until they are ready for adoption.
"Sa mother ko po, 'yung mga kakilala niyang homeless na may mga dog, pinakakain sila ng nanay ko (My mother helps homeless persons feed their pet dogs)," Rhoda said.
"Nagre-rescue po kami mga kuting na nasagasaan 'pag nakita namin sa kalye (We also rescue kittens that were ran over)," she added.
Rhoda is proud of her mother's love and compassion for animals and is happy to help, even if it gets exhausting.
For donations, you may contact Rhoda via mobile number 0920-478-0587. She said they prefer animal food rather than cash. (PNA)