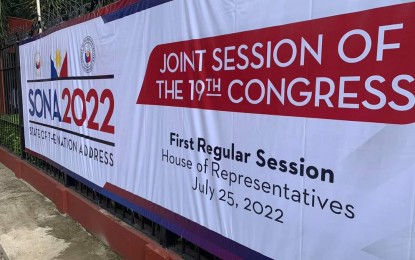 MANILA – The Philippine National Police (PNP) reminded firearms owners that a gun ban is in effect in Metro Manila starting Friday, as part of security measures for the first State of the Nation Address (SONA) of President Ferdinand "Bongbong" Marcos Jr. on July 25.
Maj. Gen. Valeriano de Leon, PNP director for operations, said the gun ban, which will last until July 27 coincided with the activation of the Task Force Manila Shield.
"We are asking for understanding from the public for the implementation of the strict security measures in Metro Manila starting today (Friday). These security measures are necessary to ensure the safety of everyone, especially since our Commander-in-Chief, President Bongbong Marcos, will discuss his plans for the country on Monday," de Leon said in a statement.
De Leon earlier warned that licensed firearms owners who are caught violating the gun ban may lose their privilege to own firearms perpetually.
"As responsible gun owners, you have the obligation to follow the rules and orders, especially those coming from the PNP, in order for you to avoid legal trouble and other consequences," he said.
De Leon said the activation of the task force means more checkpoints would be set up at Metro Manila borders, especially in Quezon City, where Marcos will deliver his SONA at the Batasang Pambansa.
Almost 22,000 police personnel and force multipliers are expected to secure the SONA. Their tasks include the maintenance of peace and order and ensuring the smooth flow of traffic.
De Leon urged organizers of protest actions for the SONA to cooperate with the security measures to prevent disturbance of traffic flow and public order along major roads in Quezon City.
"We have designated freedom parks where they can hold their activities even without permits. This is our way of recognizing their rights to assemble and air whatever their concerns are, " he said.
Appeal to rally
Meanwhile, QC Mayor Joy Belmonte directed the city's Department of Public Order and Safety (DPOS) to review appeals of groups whose requests to hold protest rallies were denied.
In a statement issued on Friday, Belmonte said the Bagong Alyansang Makabayan (Bayan) has asked her to intervene in the DPOS' denial of its request to hold protests on Monday.
"I have instructed the DPOS to carefully review the counter-points that were presented and to determine if there are any possible accommodations or middle ground that they can agree upon," she said.
The same will be applied to all rally permit requests with the DPOS, added Belmonte. All concerns are under discussion at the coordination meeting underway as of posting time.
On Tuesday, the DPOS denied Bayan's request to hold a protest rally along Batasan Road.
DPOS head Elmo San Diego said as a matter of policy, they endorsed requests to hold rallies to the QC Police District and that the traffic situation was the reason for the denial.
Protesters are allowed to hold mass gatherings in designated freedom parks -- Quezon Memorial Circle on Elliptical Road and inside the Commission on Human Rights compound and the University of the Philippines campus, both in Diliman -- but not anywhere near Batasan or along Commonwealth Avenue. (PNA)