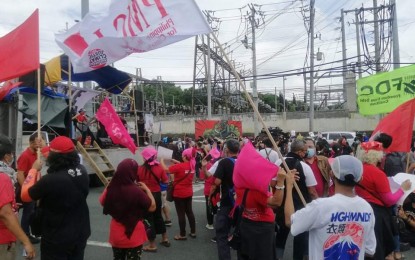 MANILA – The Quezon City government has allowed so-called progressive groups to hold protest rallies along Commonwealth Avenue while government supporters may gather along IBP Road (also known as Batasan Road) during the first State of the Nation Address (SONA) of President Ferdinand "Bongbong" Marcos Jr. on Monday.
In a statement issued on Friday night, the city government likewise announced the suspension of classes at all levels.
Acting on the directive of Mayor Joy Belmonte, administrators of the Department of Public Order and Safety, Epidemiology and Surveillance Unit, and Task Force on Transport and Traffic Management held a meeting on Friday afternoon with Brig. Gen. Remus Medina, QC Police District director, and Manny Borromeo, Department of the Interior and Local Government - QC director.
The appeal for reconsideration to hold a rally lodged by the Bagong Alyansang Makabayan (Bayan) was among those discussed.
On Friday morning, QC officials met with officials of Bayan, National Union of Peoples' Lawyers, Sanlakas, and Philippines Building for Better Movement (PBBM).
The discussion focused on how to uphold the fundamental constitutional right to freedom of peaceful assembly and free speech while simultaneously ensuring public order and safety.
"Based on these dialogues, the local government has decided to allow progressive groups to conduct their march and assembly along Commonwealth Avenue (eastbound) up to the corner of Tandang Sora Avenue on Monday, while the PBBM and allied groups will be allowed to conduct their programs along IBP Road near Sinagtala Street, Barangay Batasan Hills," read the city government statement.
Pro-Marcos groups will hold a concert along Batasan Road to show support for the President.
Businesses in the city are encouraged to adopt work-from-home arrangements for their employees to address mobility requirements and congestion.
"We are also reminding organizers of the activities to follow minimum health protocols, such as wearing of face masks, to prevent the spread of Covid-19, as well as to discipline their ranks and finish their activities on the agreed time," the statement said.
At least 22,000 police officers deployed on Friday will stay around the vicinity of the House of Representatives, where the SONA will be held, until July 27. (PNA)