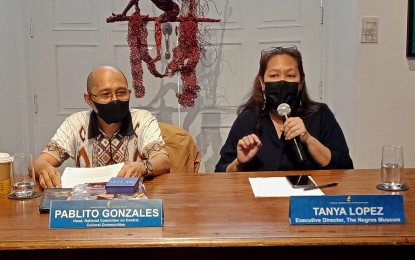 BACOLOD CITY – The National Commission for Culture and the Arts (NCCA) is calling for proposals for next year's competitive grants from accredited institutions and individuals in Negros Occidental.
Pablito Gonzales, head of the National Committee on Central Cultural Communities, issued the invitation, particularly to indigenous peoples' organizations (IPOs), which are the main clients of his committee.
"We are here to encourage you to apply. Under the NCCA, my focus is on the IPs," he said during a press conference held at The Negros Museum here on Friday.
Gonzales, who is based in Kabankalan City, Negros Occidental, enjoined local government units to assist the IPOs in their areas in applying for the grants.
These can be in the areas of disaster risk reduction and management, capability-building for improved access to traditional arts, documentation of system of traditions, and advocacy building and formulation of local cultural guidelines.
Each of the 19 NCCA committees has a budget of PHP7 million each for the 2023 competitive grants.
Tanya Lopez, executive director of The Negros Museum, a recipient of the previous competitive grants, said the assistance is also available for proposals on the staging of festivals and performances as well as the conduct of research and production of publications.
"With the Negros Cultural Foundation, we have been recipients of the NCCA grants in the past 10 years. It has helped us a lot in our projects, programs and activities," she added.
The grants program, which requires proponents to be accredited by the NCCA as a pre-requisite to the approval of their project proposal, is competitive in nature since the proposals had to pass through a rigorous and confidential evaluation process based on merit.
Applications will be accepted until August 31 from IPOs, civil society organizations, people's organizations, individuals, local government units, government agencies, state universities/colleges, and public schools.
Under Republic Act 7356, the NCCA is authorized to give grants to artists and cultural groups which contribute significantly to the Filipino cultural legacy as means to extend artistic achievement.
The same law mandates the NCCA to administer the National Endowment Fund for Culture and the Arts and give grants for the development, protection, preservation, and dissemination of Philippine culture and arts. (PNA)