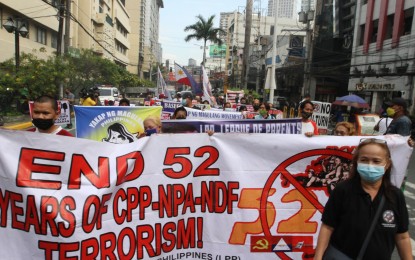 MANILA – Parents' groups and anti-communist advocates are looking forward to "concrete plans" that will address insurgency problems during President Ferdinand "Bongbong" Marcos Jr.'s first State of the Nation Address (SONA) on Monday.
Remy Rosadio, League of Parents of the Philippines (LPP) president, said they expect that the deceptive recruitment of the youth by the Communist Party of the Philippines-New People's Army-National Democratic Front (CPP-NPA-NDF) through its front organizations will be included in Marcos' priorities.
"As our new head of state, father and protector of all children and youth of our country, we are expecting that he will give priority to the security of our children while they are in school and university campuses, vulnerable to CPP-NPA's recruitment," Rosadio said in a text message on Sunday.
She noted that most parents, especially those whose children were recruited to join the armed struggle, wish that their efforts will be pay off through support from the government.
"We risk our lives going out on the street and at other concerned government offices and private offices staging rallies so that our voices, the parents' voices, can be heard," she added.
Rosadio said they "need assurance" that the government will continue to lay down supportive plans and actions against the insurgency and appealed to Marcos to continue programs of the Duterte administration being implemented by the National Task Force to End Local Communist Armed Conflict (NTF-ELCAC).
"Their way of handling our insurgency problems was very effective. We had unmasked those organizations created by (CPP founder) Joma Sison, the fronts recruiting our innocent children to join the armed revolution and brainwashing the children to overthrow the government," Rosadio said.
She added NTF-ELCAC programs also uplifted the lives of marginalized communities in NPA-infiltrated areas.
"We will support and help you and NTF-ELCAC in any way we can so that the recruitment of minors will totally end. We want a communist-free country. We want our children to finish their studies without hindrance. We want to sleep at night thinking that our children are safe from communist rebels and sympathizers," she said.
Nolan Tiongco, Makabagong Alyansa and Liga Independencia Pilipinas spokesperson, said the President must lay down his concrete plans on how to end the communist terrorist groups' attacks and exploitation of vulnerable sectors.
"Ang pangarap ng mayorya ng Pilipino ay tapusin na ang CPP-NPA-NDF at sana 'yun din ang pangarap nya (We hope that he will share the dream of the majority to put an end to the CPP-NPA-NDF)," he said in another text message.
Relissa Santos Lucena, Yakap ng Magulang president whose daughter was also recruited by the CPP-NPA's front organizations, called for the prioritization of anti-insurgency plans.
"Dahil kung hindi ito pagtutuunan ng pansin patuloy pa rin ang pagpapadala ng kabataan sa kabundukan upang makapag-recruit ng komunidad at ang mga kabataan ay nagagamit na lamang ng mga pulitiko upang maging paramilitar nito (If these will be neglected, the deployment of youth to the mountains will continue, communist recruitment will abound, and our children will be exploited by politicians)," she said in a text message.
Arlene Escalante, LPP spokesperson, also told the Philippine News Agency that the support that multi-sectoral organizations will get from President Marcos would mean a lot to parents whose children joined the communist fronts.
"Innocent children are still being kidnapped to be trained as child warriors. Students are still being recruited by these demons to the armed struggle. Women in the bundocks are still being abused by their cadres. Indigenous communities are still being ruthlessly exploited. Businesses are still being burned. And our soldiers and police are still being killed," she said in a text message.
The CPP-NPA is listed as a terrorist organization by the United States, European Union, the United Kingdom, Australia, Canada, New Zealand, and the Philippines.
The Anti-Terrorism Council also formally designated the NDF as a terrorist organization on June 23, 2021, citing it as "an integral and inseparable part" of the CPP-NPA that was created in April 1973. (PNA)