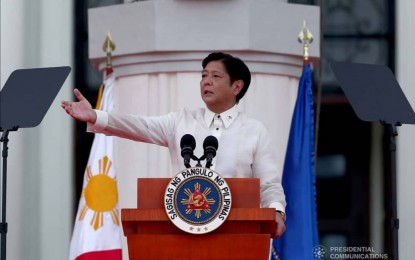 #PBBMSONA2022
MANILA – Improving ties with the country's partners, both traditional and non-traditional, is among the priorities of President Ferdinand "Bongbong" Marcos Jr. (PBBM) in the next six years.
This was highlighted by the series of engagements between the chief executive, diplomats, and foreign government officials since his landslide win in the elections, leading to his first State of the Nation Address on Monday.
Marcos has met with United States Deputy Secretary of State Wendy Sherman, Australia's Governor-General David Hurley, Chinese Foreign Minister Wang Yi, Chinese Vice President Wang Qishan, and many other ranking foreign dignitaries.
And in those meetings, he talked about enhancing existing cooperations and further exploring areas of mutual interest.
After his meeting with Sherman, the latter said Washington DC sees a "proactive agenda for cooperation" between the United States and the Philippines -- an agenda designed to directly improve the lives of the two nations' peoples, to build prosperity and improve security, and "to seize the opportunities of the 21st century".
The official said the US would also work closely with the new administration to promote health security and help the country recover from the Covid-19 pandemic.
Marcos' meeting with Wang, meanwhile, emphasized the importance the former places on pursuing friendly ties with China.
During the said meet, the two pushed for the "upgrading of bilateral cooperation" to usher in a "golden age" in their ties.
But even as he sought closer relations with these major powers, Marcos, way before his election win, vowed to pursue an independent foreign policy that is anchored on national interest.
"Pro-Philippines, I've always said that," he was quoted as saying in February 2022 by the Manila Times. "Well, it's very simple in my mind. I don't work for Washington DC, I don't work for Beijing. I work for the Philippines."
In his inaugural speech, Marcos said his administration would be open to suggestions "coming from hard thinking and unsparing judgment but always from us Filipinos".
"We can trust no one else when it comes to what is best for us. Past history has often proven that," he said.
"Solutions from outside divided us; none deepened our understanding; they were always at our expense. Never forget we are Filipinos, one nation, one republic indivisible. We resisted and never failed to defeat foreign attempts to break up our country in my father's watch. His strongest critics have conceded that," he added.
'Regional peace, prosperity'
The administration had also emphasized its commitment to protecting the country's sovereignty and territorial integrity.
To recall, China and several other littoral states lay territorial claims on the South China Sea, some of which overlap with the country's waters.
Marcos, during his meeting with Wang, had promised to establish "candid communication with the Chinese side to find a friendly solution" to this issue.
On top of this, Foreign Affairs Secretary Enrique Manalo confirmed that Manila would use the landmark ruling issued by the Permanent Court of Arbitration in 2016 as an anchor to its "actions on the West Philippine Sea".
It authoritatively ruled that the claim of historic rights to resources within the sea areas falling within China's nine-dash line had no basis in law and is without legal effect.
It also upheld the Philippines' sovereign rights and jurisdiction in its exclusive economic zone.
Apart from balancing ties and protecting sovereignty, Marcos underscored the need to maintain regional peace amid the conflicts happening in other parts of the world.
At the inauguration, he said: "We face prospects of the spread of the war abroad, of which we are totally blameless. We seek friendship with all. But countries like ours will bear the brunt of it. And if the great powers draw the wrong lessons from the ongoing tragedy in Ukraine, the same dark prospect of conflict will spread to our part of the world."
"Yet there is more out there, like going forward by new ways of doing the pandemic forced us to adopt. A stronger resilience, quicker adaptability, they are our best prevention, they are our best protection," he added.
In separate engagements prior to his SONA, Hurley and Japanese Prime Minister Fumio Kishida discussed with Marcos peace and security in the Indo-Pacific. (PNA)