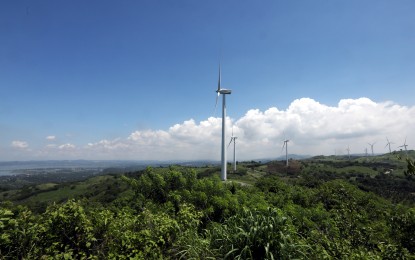 #PBBMSONA2022
MANILA – President Ferdinand "Bongbong" Marcos Jr. on Monday pushed for the transition to renewable energy to mitigate the worst impacts of climate change on the country.
Marcos, in his first State of the Nation Address (SONA) delivered at Batasan Pambansa in Quezon City, said the use of renewable energy will top his administration's climate change agenda.
"We will increase our use of renewable energy sources such as hydropower, geothermal, solar, and wind," said Marcos, whose home province Ilocos Norte houses the now-famous Windmills of Bangui.
The shift to renewable energy is seen as a solution to help slow down the effects of climate change.
The United Nations-body Intergovernmental Panel on Climate Change (IPCC), in its report released in April 2022, bared that solar and wind energy and batteries have shown sustained cost reductions of up to 85 percent since 2010.
Many policies and laws have improved energy efficiency, reduced deforestation rates, and accelerated renewable energy deployment, according to the IPCC report.
Marcos emphasized the need to promote the use of renewable energy, as he noted that the Philippines is a disaster-prone country.
Given the country's geographical situation, capacity-building for natural disaster resiliency is "a must," he said.
Marcos said investing in science and technology would enable the government to have accurate weather forecasts and on-time disaster alerts.
"For the welfare of our people, it is incumbent upon us to lessen our vulnerability," he said. "Studies show that many areas in the Philippines are already at high risk from the rise in sea levels brought about by the increase in global temperature. We must adapt to this phenomenon with disaster-proof urban planning.
Partnership with private sector
The Philippines, though a minor contributor to climate change globally, is one of the most vulnerable countries to the effects of climate change.
Marcos also raised alarm over the precarious fresh water supply situation in the country, especially in urban areas.
"Many of our water supply systems date back to the 1950's and they must already be rehabilitated and improved," he said.
He then directed Environment Secretary Ma. Antonia "Toni" Yulo-Loyzaga and Public Works Secretary "Manuel" Manny Bonoan "to explore possible partnerships with the private sector to address this critical situation."
"There is no question that the preservation of the environment is preservation of life. If we cannot mitigate climate change, all our plans for the economy will be for naught," Marcos said.
Marcos said environmental laws and policies must be followed when the government forges partnership with the private sector.
"Companies who exploit our natural resources must follow the law. We all have the responsibility to preserve the Earth, for we are but custodians, and we will pass this treasure on to future generations," he said.
Marcos, in his inaugural speech delivered on June 30, mentioned plastic pollution and climate change as among critical issues his administration will address.
Finance Secretary Benjamin Diokno earlier said Marcos will continue pursuing a whole-of-nation approach in mitigating climate risks. (PNA)