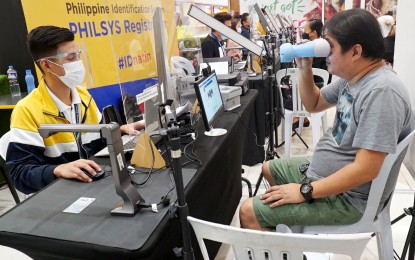 #PBBMSONA2022
MANILA – President Ferdinand "Bongbong" Marcos Jr. has ordered the Philippine Statistics Authority to issue 30 million national IDs by the end of 2022 and reach the target goal of 92 million by the middle of next year, as he cited its vital role in digital transformation during his first State of the Nation Address (SONA) at the Batasang Pambansa in Quezon City on Monday.
In his speech, Marcos said the national ID will enable seamless transactions between citizens and national and local governments.
"The National ID will play an important part in this digital transformation. For citizens to be able to seamlessly transact with government, their identity must be verifiable," he said.
"The target is to accomplish the issuance of about 92-million IDs by the middle of 2023," he said.
To make good use of the system, he ordered the Department of Information and Communications Technology (DICT) to digitize and harmonize government databases and have their data readily shared across departments and agencies.
"(The DICT) has the daunting task of transforming our government into an agile bureaucracy that is responsive to the needs of the public, provide good and solid data to ensure informed decision making, and allow secure and seamless access to public services," he said.
With much of government and other services moving into the digital realm, he noted how universal connectivity, or providing internet access to geographically isolated and disadvantaged areas (GIDA), will prevent widening a "digital divide" or creating inequalities.
"I have therefore tasked DICT Secretary Ivan Uy to deploy digital connectivity across our various islands," he said.
These projects are the National Broadband Plan which seeks to create a single digital backbone for the national and local government, the common tower program that streamlines the building of towers and makes them cost-effective through tower-sharing and connecting GIDAs through the "BroadBand ng Masa" project.
"All relevant modes of digital transport should be utilized. These may be through a combination of terrestrial or submarine fiber optic, wireless, or even satellite technology," he said.
With the recent passing of the Public Service Act (PSA) removing the restriction on foreign investment, he sees an increase in foreign direct investment in the information and communications technology (ICT) sector.
This includes the entry of the internet service provider (ISP) Starlink -- owned by Elon Musk's SpaceX -- that seeks to provide low-latency high-speed internet service to those that typical copper or fiber-based ISPs cannot reach.
"The scale and speed at which these innovations are introduced universally into our everyday activities are unprecedented in our recorded history. We cannot stand idly by," he said.
In an interview with the Philippine News Agency (PNA) last week, Uy said his goal is to have Filipinos fill up their data once with the government and have them shared with other agencies when necessary, preventing redundancies and streamlining public service.
He is also seeking the creation of an online shopping platform -- with a complete e-commerce ecosystem -- to help micro, small, and medium enterprises bring their presence online. (PNA)