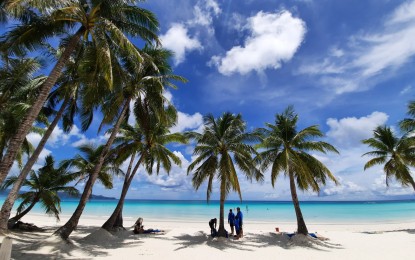 #PBBMSONA2022
MANILA – The country will have more international airports and road improvements to attract more visitors and fast-track tourism's recovery, President Ferdinand Marcos Jr. said Monday.
In his State of the Nation Address, Marcos enjoined his Tourism and Public Works chief to make it more convenient for travelers to go around the country and provide them easier access to remote areas and undiscovered tourist spots.
"To boost our tourism industry, we will first and foremost make basic developments such as road improvements for easier access to tourism spots. We will also upgrade our airports and create more international airports to help decongest the bottleneck at the Manila International Airport," he said.
The directive was made as he stressed tourism's importance as an economic development tool and a job-generating industry that benefits the grassroots level.
Based on the latest data from the Philippine Statistics Authority released on June 28, the industry employed at least 4.9 million individuals in 2021, up from the 4.7 million figures in 2020. Still, the figures are way below the 5.71 million tourism jobs generated in 2019.
With borders virtually closed for the entire 2021, the country last year also only recorded a total of 163,879 foreign visitors. This is 89 percent down from the 2020 arrivals of 1,482,535.
Earlier, Tourism chief Christina Frasco said the Department of Tourism would further improve tourism policies to adapt to the changes brought about by the pandemic.
Upon her appointment, Frasco immediately embarked on "listening tours" to assess the challenges besetting the industry and among the issues raised by the stakeholders were accessibility to landlocked destinations, and lack of flights and airports, particularly in Luzon.
During those meetings, she likewise promised to coordinate the concerns with relevant government offices.
She also instructed the Tourism Promotions Board to reach out and provide assistance to local government units, especially those that still have underdeveloped destinations.
Meanwhile, Marcos directed the DOT to promote the so-called Filipino brand, which the agency continues to boast as "hospitality and service" that attract repeat tourists from abroad.
"They say, each brand has a story. As for the Filipino brand, ours is deeply rooted in our rich cultural heritage and the tourism sector plays an invaluable role in the promotion of the Filipino brand," Marcos said.

"To foster the Filipino brand is to spark our sense of pride and reaffirm our strong sense of identity. It is time to welcome the rest of the world with an enhanced Filipino brand that is unique, attractive, and creative," he said. (PNA)