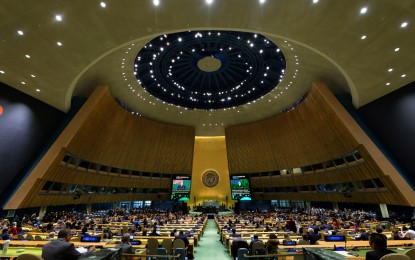 GENEVA – Philippine civil society experts briefed United Nations (UN) diplomats on how best practices in the Bangsamoro promote the humanitarian norms of the Convention on Conventional Weapons (CCW), a landmark treaty that seeks to limit warfare by balancing security considerations with humanitarian protection.
The CCW is an umbrella treaty composed of five protocols, each dealing with the prohibition or regulation of specific weapons.
Two of the protocols — Amended Protocol II on mines, booby traps, and other explosive devices, and Protocol V on explosive remnants of war (ERW) — provide for regular Group of Experts (GOE) meetings where state parties exchange views on how best to implement the agreements.
At the GOE meeting held here July 20 to 22, the Philippines announced that it has ratified Protocol V in April, completing the country's formal adherence to all CCW protocols.
The protocol will take effect in the Philippines in November.
Spanish Ambassador Ignacio Sanchez de Lerin, president-designate of the Annual Conference of High Contracting Parties to CCW Protocol V, joined other GOE delegations in welcoming the Philippines' ratification.
Sanchez noted that the Philippines has been implementing the norms of the said protocol even prior to joining the treaty this year.
The Philippine and Spanish permanent missions to the UN in Geneva sponsored an event entitled "Community-Led Universalization of CCW Norms: Lessons from the Philippines' Peace and Reconciliation Process" on July 22 to brief GOE delegations on how the establishment of the Bangsamoro Autonomous Region in Muslim Mindanao (BARMM) in 2019 entailed the implementation of CCW provisions in the region.
Mitzi Austero, programs manager of Non-Violence International Southeast Asia (NISEA), explained that multilateral negotiations and entry into force of the CCW in the 1990s coincided with the development of laws and policies in the Philippines that promote peace and reconciliation in an inclusive and gender-sensitive manner.
This local norms-building eventually paved the way for the conclusion of the Comprehensive Agreement on the Bangsamoro in 2014, which includes provisions that require former armed rebels and government forces to cooperate to rid communities of ERWs and unexploded ordnance (UXO).
ERWs and UXOs threaten civilians, disrupt communities, and are sometimes a source of components for improvised explosive devices that armed groups like what the New People's Army uses to conduct terrorist attacks.
In some countries like Laos, freedom from ERWs and UXOs has been identified as a supplemental sustainable development goal.
Alfredo Lubang, national coordinator of the Philippine Campaign to Ban Landmines, said at the same event that efforts are underway to finalize the regulatory framework for coordination between the central and regional governments in ridding Bangsamoro communities of ERWs and UXOs.
Philippine military and law enforcement authorities retain the mandate to conduct ERW and UXO disposal, but the Moro Islamic Liberation Front (MILF) has been providing security during operations in volatile communities that were formerly controlled by rebel groups.
Since the establishment of BARMM, military and law enforcement units are now required to coordinate with the new Bangsamoro Ministry for Public Order and Safety.
Former MILF rebels now assure local communities that Philippine military and law enforcement units conducting ERW and UXO disposal are not threats. This has in turn made it easier for communities to report ERW or UXO discovery to national authorities.
Lubang said this new arrangement sees formerly warring actors working together to safeguard local communities, a result of years of trust-building made possible by strong political will to promote humanitarian objectives on both sides.
"This political will was demonstrated for example when the MILF unilaterally renounced landmines because they are contrary to Islamic teachings, while then President Fidel V. Ramos ordered the unilateral destruction of all military mines after seeing their destructive effects during a state visit in Cambodia," Lubang said. "This political will was then cultivated by civil society, local community and religious leaders to further build trust among all actors."
The example of the Bangsamoro demonstrates that the robustness of international humanitarian agreements like the CCW is best pursued at the grassroots, said Ambassador Maria Teresa Almojuela, deputy permanent representative of the Philippines to the UN in Geneva.
Universalization of CCW norms must be led by communities themselves, working with all stakeholders including civil society, and taking into account local nuances, the ambassador said. (PR)