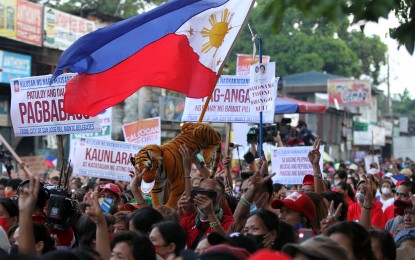 #PBBMSONA2022
MANILA -- The humid weather and drizzle did not stop thousands of people from joining a festive street concert on Monday to express support for the first State of the Nation Address (SONA) of President Ferdinand "Bongbong" Marcos Jr.
Around 20,000 Marcos supporters from Metro Manila and nearby provinces packed the IBP Road in Quezon City during the "Kilos Suporta para sa Pagbangon at Pagkakaisa - PBBM SONA," based on crowd estimates from event organizers.
Reminiscent of Marcos' campaign sorties held recently, the attendees — all clad in red BBM shirts, face masks, and caps — cheered for the President and flashed his signature peace sign.
They energetically sang and danced to the hits performed by Repakol, Inner Voices, Plethora, and Arriba despite light rains and humid air.
Ali Forbes and Rikki Mathay hosted the event which was livestreamed over PTV-4 and SMNI.
"We are here to show our support for President Bongbong Marcos as he delivers his first SONA. He wanted us to listen to his programs and here we are, heeding his call," said Malayang Quezon City president Edwin Rodriguez, one of the organizers of the event.
"We also want to celebrate this day because it marks the beginning of unity and reconciliation in our country which will enable PBBM deliver his promises," he also told the media.
Rodriguez explained that the program was an invitation to government critics to respect President Marcos' mandate and cooperate with the administration.
Among the attendees were members of Kilusan ng Nagkakaisang Pilipino, Kabuhayang Bayanihan Serbisyong Panlipunan, and Marcos Loyalists Alliance Movement.
Gloria Arellano, a 59-year-old local official in Deparo, Caloocan, went to the jovial gathering with her fellow solo parents, saying she did not want to miss the show of force for President Marcos.
"I am thankful that PBBM dominated the presidential race because I believe that he won't let solo parents down," she said.
Yonelyn Francisco, a team leader of Malayang Quezon City, said she was proud that she was among 31 million Filipinos who voted for Marcos during this year's presidential elections.
"I liked President Marcos' promise of unity and his pledge to continue the programs launched by his predecessors," Francisco said.
Rodriguez extended his gratitude to participants of the successful event, which he described as a "proof of President Marcos' popularity." (PR/OPS Special Concerns)