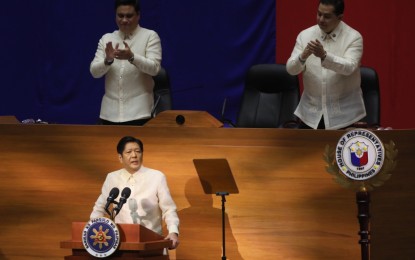 MANILA – Netizens were satisfied with and admired President Ferdinand "Bongbong" Marcos Jr. as he laid out his administration's plans to give Filipinos a better and comfortable life.
Marcos' first State of the Nation Address (SONA) dominated Twitter trends, as some Filipinos who watched and listened to the Chief Executive's speech shared their reaction.
One of the Twitter users who gave an assessment was television host Bianca Gonzalez who praised Marcos for delivering a "good" SONA.
Gonzalez, who did not vote for Marcos during the 2022 presidential elections, said the President presented policies and programs that will benefit the country.
"[P]BBM is our duly elected President and I felt his SONA was good. Kung successful ang admin, success din ng Bayan (If the administration becomes successful, that is also the success of the nation)," she said in a Twitter post. "Here's hoping this admin delivers on the promises, para sa Bayan (for the country)."
Marcos' first SONA was one hour and 14 minutes long, highlighting his administration's agenda on economic recovery, coronavirus disease 2019 (Covid-19) pandemic response, foreign policy, and legislative priorities.
The most applauded statements in Marcos' speech include his emphasis to bring the much-needed health facilities outside Metro Manila, as well as his promise not to surrender the country's territory.
Twitter user @iapinas also lauded Marcos for his plan to focus on developing and refining Filipino students' performance in the fields of science, technology, engineering, and mathematics (STEM).
"I teared up when PBBM talked about the importance of STEM for the students who [have] the skills, but couldn't get enough education in that matter. As a STEM student and having a STEM-related course, which is Architecture, I have no words but to feel thankful," @iapinas said. "And for all of this, I will be inspired to get on with the work. Godspeed."
Thea Tan (@theadtan), in a Twitter post, praised Marcos for stressing the need to invest in digital infrastructure, saying "people in [technology industry] are happy and grateful to hear this."
Netizen Missy Chua, with user name @mystic1434, said it is "inspiring" to hear the priority measures of the Marcos administration.
"It is awesome to watch the very first SONA of our President Bongbong Marcos. The priority bills are inspiring. I am just super proud of him and will continue to support his leadership in leading our country's government. Mabuhay si (Long live), PBBM & all of his Cabinet Officials," she said.
Twitter user Weiner Henry Caparros said he was "very impressed" with Marcos' first SONA, and vowed to continue supporting the President to ensure the country's success.
"The speech was written by PBBM himself, he knew his target audience -- he used the english medium while discussing the economic plan and shifted to our native tongue when he discussed agendas concerning the Filipinos.The 'how' was more thorough and clearer the way I understood it during campaign and now that he's the President. His delivery whether with prompter or not was fit for a statesman -- very dignified," Caparros said.
Caparros also wished Marcos "good health and long life for all the plans to happen and make the Philippines a better country after 2028."
Thousands of Marcos supporters from Metro Manila and nearby provinces also flocked to the IBP Road in Quezon City on Monday to attend the "Kilos Suporta para sa Pagbangon at Pagkakaisa - PBBM SONA," according to crowd estimates from event organizers.
Clad in red BBM shirts, face masks, and caps, the attendees cheered for the President and flashed his signature peace sign. (PNA)