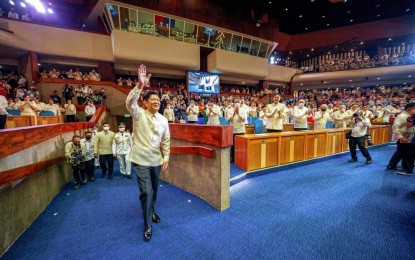 MANILA – Senators on Tuesday said President Ferdinand Marcos Jr.'s State-of-the-Nation-Address (SONA) tackled the issues they needed to hear.
Senator JV Ejercito was pleased that Marcos stayed true his word when they met before the June 30 inauguration of the Chief Executive.
"He made an important commitment to fully implement the provisions of the Universal Health Care Act, which I principally authored during my first term in the Senate -- from the protection of health care workers and their welfare to the expansion of community-level medical services in remote areas," Ejercito said in a statement.
The President highlighted the need to establish specialty health care centers nationwide to bring medical services closer to people, the very purpose of the Specialty Center Bill that Ejercito said he filed before the start of the 19th Congress.
"I am elated to hear these affirmations from the President. The country's health care system will finally get the attention it deserves," Ejercito said.
He noted Marcos' promise to strengthen the "Build, Build, Build" program of the Duterte administration, focusing this time in Mindanao, Panay, and Cebu.
"These efforts will definitely spread out development throughout the country, create growth development areas beyond our urban centers, and generate new jobs and opportunities in an economy that is currently struggling from the effects of the Covid-19 pandemic," Ejercito said.
Senator Lito Lapid agreed with the full implementation of face-to-face (F2F) classes.
"It is important that we allow our students to fully experience face-to-face classes again, provided that safety protocols and measures are put in place to prevent another surge of Covid cases. Moreover, the F2F setting has been proven to promote the physical and mental health and well-being of our students. As a result, this shall also ease the burden on the part of our teachers as well as the parents," Lapid said in a statement.
Senator Sonny Angara said Congress will support Marcos' legislative agenda.
"Matatayog at paniguradong hindi lakad sa parke ang mga ito. Klaro ang hinihiling niyang mataas na pamantayan ng pagseserbisyo. Subalit buo ang pananalig at tiwala ko sa mga kasamahan ko sa Kongresong ito (Lofty goals and they will not be a walk in the park. What he asked for is clear, which is a high standard of service. But I fully trust my colleagues in this Congress)," Angara said in a statement.
Powerful speech
Shortly after Monday's SONA at the Batasang Pambansa in Quezon City, Senator Grace Poe described it as "pointed, forceful, and aggressive", citing the President's vow to boost the agricultural sector, protection of the territory, and digitalization.
"By vowing not to give up even a square inch of Philippine territory, he stood firm in defending our sovereignty as well as protecting the livelihood of our fishers who risk life at sea to put food on our tables," Poe said in a statement.
Poe said digitalization of government services is a program that is well past due.
"As a key plank of the administration's policy roadmap, we hope that e-governance will enhance services especially to our poor citizens who must no longer wait and line for hours when transacting with government offices," she added.
Marcos' focus on continuing the expansion of the transport infrastructure, Poe said, will offer faster, safer, and bigger-capacity for the sector.
"This, along with the modernization of our airports and seaports, will attract more tourists, speed up the movement of goods, and make travel seamless," she said.
Poe also lauded the President's vow to provide stable and clean water supply.
Meanwhile, Senator Ramon Revilla Jr. said the SONA was an open book of strategic plans and targeted policies the government is determined to take to bring the nation back on its feet.
"His message is an assuring testament that our nation is led by a visionary who has a concrete plan for steering the government to effect positive changes for the Filipino people. Sincerity is overwhelmingly felt in his message rooted in his genuine and earnest desire to serve the country," Revilla said in a statement.
The President's priority legislative measures, he said, revealed an all-encompassing and inclusive plan for all, pointing out that sound fiscal policy is necessary in order for the country to bounce back.
"With his proposed Budget Modernization Bill, public participation and transparency in budgeting will ensure that the national coffers could continue fueling much needed programs," Revilla noted.
Quoting American author Norman Vincent Peale, Angara said Marcos started on the right foot.
"Taasan mo na ang iyong pangarap na marating ang buwan. Hindi ka man umabot, ika'y malalaglag kapiling pa rin ang mga bituin (Shoot for the moon. Even if you miss, you'll land among the stars)," he said. (PNA)