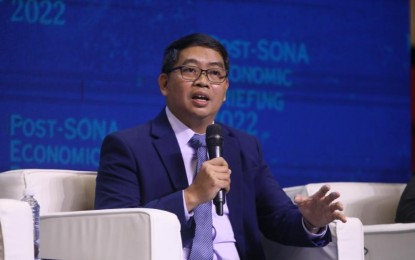 MANILA – The welfare of local farmers and fishers will be prioritized under the new administration, as budget allocation for the Department of Agriculture (DA) is set to increase.
In a post-State of the Nation Address (SONA) forum on Tuesday, DA Assistant Secretary Arnel de Mesa said President Ferdinand "Bongbong" Marcos Jr. is putting a premium on increasing local yield and dropping food prices.
"What's exciting and great about the President, being also our secretary of our agriculture, is the importance and priority being given now to the department, and one credible answer to that DA will now be given, is one of the priorities for budget increase allocation," he said.
This budget hike will lead to the granting of loans to farmers, improving the entire value chain, and making sure it will reach consumers at an affordable market price.
"We will be focusing on boosting our key agricultural commodities, this will be supported by, credit-financial assistance, it's number one; second is by the provision of appropriate technologies," de Mesa said.
During Marcos' first SONA, he said the government will procure farm inputs in bulk and make them available to farmers at an affordable price.
By the last quarter, the DA is set to launch Masagana 150 and 200.
"By October we will be launching the Masagana 150 and 200. We are aiming to increase the productivity of our rice per in-breed to a level of 7.5 metric tons per hectare, and our hybrid at 10 metric tons per hectare. So that's why it's called Masagana 150 to claim 150 bags, and 200 bags for our hybrid," de Mesa said.
Besides loans and technologies, the DA is also working on improving a digitized system for aid distribution.
"We will continue to digitalize the sector by starting with our registry system. The registry system for the basic sector in agriculture, we have more than 12 million farmers and fisherfolk, by digitizing we will avoid duplication in the interventions, and mostly, we will be avoiding leakages in the interventions," de Mesa said.
Lowering market prices
Part of lowering market prices is done through improved logistics, slashing unnecessary layers, hence, the DA's push for farm-to-market roadmap plans.
"There are about at least 70,000 kilometers that needed to be concreted all over the country, to bring an efficient distribution system, to reduce the prices of basic commodities all over the country," de Mesa noted.
He also mentioned regional food hubs to effectively distribute commodities to DA's Kadiwa centers where prices are expected to be reasonable.
Earlier, DA Undersecretary Kristine Evangelista said more unnecessary layers in the value chain would mean additional costs shouldered by the consumers.
Agri resilience
The DA admitted that the status of Philippine agriculture was challenged by various external uncontrollable forces like the spread of transboundary diseases, impacts of climate change, the coronavirus disease 2019 pandemic, and the Ukraine-Russia war.
To avoid aggravating its effects and ensure recovery, the DA is set to build cold examination facilities across the country.
"This will be our first border protection so as to prevent the further entry of these transboundary diseases. We want these to be established in Subic, in the port of Batangas, in Cebu, in Davao, and of course in Manila International container port," de Mesa said. (PNA)