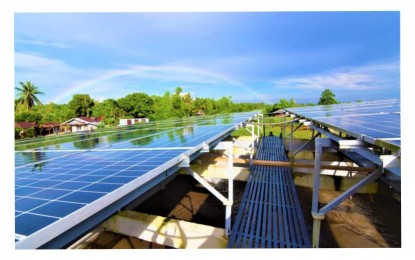 BACOLOD CITY – A group of farmers in Manapla, Negros Occidental got a boost in their farm operations through the installation of an integrated solar-powered irrigation system provided by the provincial government.
The PHP6.9-million facility combines the use of upland aquaculture through grow-out and aquaponic system, fertigation, and drip irrigation system, in a 600-square meter farm located in Hacienda Myrianne, Barangay San Pablo.
Governor Eugenio Jose Lacson led the turnover of the project to the Myrianne Farmers Development Association and Myrianne Youth Farmers Organization on Monday.
"This is another step forward. On behalf of the province, we are ready to continuously help you here because you have done well in managing your association," he said.
The farmers plant vegetables and high-value crops and have been developing the farm to become an agri-tourism destination.
Provincial Agriculturist Edmundo Raul Causing said the solar-powered irrigation system brings a cutting-edge technology to the farmers.
In the past, the farmers had to use a motorized water pump to irrigate the area, spending as much as PHP19,000 for fuel alone each year.
Now, with the solar-powered irrigation facility, they can utilize the aquaculture and aquaponic system, a process by which irrigation water is pumped to a reservoir that serves as a fish tank that can culture freshwater species such as tilapia.
Initial production is estimated at 75 to 80 kilos of tilapia after four months, and with a farm-gate price of PHP110 per kilo, estimated income is PHP8,250 at 75 kilograms.
Through fertigation, the fish wastes/excretes will serve as an organic fertilizer in liquid form.
The drip irrigation system, which uses high density polyethylene drip tubes to moisten the root system of the plants, maximizes irrigation efficiency.
Jason de la Cruz, chairman of Myrianne Youth Farmers Organization, said they continuously work to improve their organization since it was formed in December 2017.
Since only a few young people engage in farming, they want to inspire the youth to also get involve in agriculture, he added. (PNA)