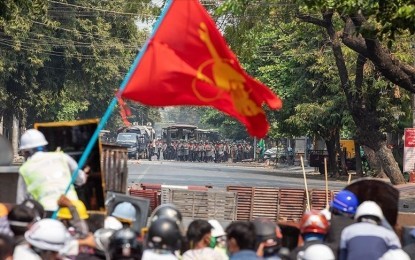 MANILA – The Department of Foreign Affairs (DFA) retained Alert Level 4 in Myanmar despite appeals from overseas Filipino workers (OFWs) to lift the classification.
In a statement Wednesday, the department said mandatory evacuation procedures remain in place in the Southeast Asian nation amid the security situation there.
"The DFA acknowledges the concerns of OFWs wishing to return to Myanmar despite the uncertainty and danger posed by the ongoing crisis. However, the safety and security of every single Filipino overseas remain the top priority of the Philippine government," it said.
"To protect the lives of our fellow Filipinos abroad, Alert Level 4 will therefore remain in place in Myanmar until further notice."
Alert Level 4 has been in place in the southeast Asian nation since May 6, 2021, due to the continued escalation of violence and worsening armed conflict after the military takeover in February 2021.
The DFA said it would provide necessary assistance to the remaining Filipinos in Myanmar as it continues to assess the situation on the ground.
Since February 2021, the Philippine government has repatriated a total of 701 Filipinos from Myanmar, which constitutes about 60 percent of the total number of overseas Filipinos in the country.
Filipinos who are still in Myanmar, meanwhile, have been advised to restrict non-essential movements, avoid public places, and prepare for evacuation.
They may contact the Philippine Embassy in Yangon through email ([email protected]), telephone (+959985210991 /+959250765938), or Facebook (@PHinMyanmar). (PNA)