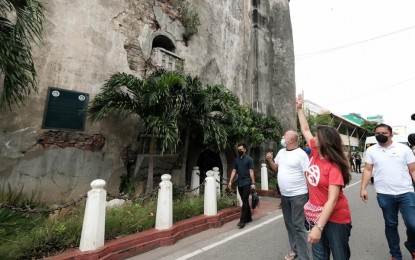 LAOAG CITY – Senator Ma. Imelda Josefa "Imee" Marcos on Thursday said a "digital X-ray" of northern Luzon's heritage sites should be done to determine the extent of the damage caused by a magnitude 7 earthquake that hit the area on Wednesday.
Marcos made the suggestion during a visit to Bangued, Abra with his brother, President Ferdinand Marcos Jr., where a briefing was held with national and local government agencies to determine the extent of the tremblor's damage.
"The destruction of heritage sites is overwhelming. They should be condemned shortly," said Imee.
Marcos said to conduct digital X-ray imaging, which is non-destructive testing of the analysis, identification, and restoration of cultural heritage structures, a separate budget must be put aside to contract specialists to assess the structural integrity of centuries-old churches in the Ilocos Region (Region I) and the Cagayan Valley (Region II), as well as in the Cordillera Administrative Region.
In Ilocos Sur, Imee dropped by the Vigan City Cathedral, a 16th-century building that draws pilgrims all year round, and the iconic Bantay watch tower that sustained damage, among other important structures, due to the quake.
While the President immediately flew back to Manila after visiting Abra and Vigan City, his elder sister proceeded to Laoag City to check on the famous sinking bell tower and the Diocesan Shrine of St. Nicholas de Tolentino in neighboring San Nicolas town.
The earthquake on Wednesday was felt at Intensity V in Laoag City and it caused minor damage to heritage structures.
"It is good that our Spanish period structures in Ilocos are sturdy and retrofitted. It could have been worst," said Bernard Joseph Guerrero, a cultural heritage worker in Paoay, Ilocos Norte.
But the current state of the Laoag sinking bell tower may need new retrofitting, according to local authorities as the structural retrofit done before has deteriorated and barely held the structure.
While the UNESCO-world heritage site of St. Augustine church in Paoay town is safe, structural engineers noted that the old convent ruins brick walls had partially collapsed during the earthquake.
In consultation with provincial engineer Luciano Domingo Jr., provincial tourism officer Aianree Raquel, provincial social welfare and development officer Corazon Lilian Celia Rin, and provincial disaster risk reduction and management officer Marcel Tabije, the senator said most of the infrastructures in the Ilocos Region are already over 50 years old, considered ancient, and need to be replaced.
Based on the initial assessment of damage to infrastructure, Engr. Ronnel Tan, regional director of the Department of Public Works and Highways in Region 1, reported to the President on Thursday that they have recorded about PHP35 million in damage to bridges and slope protection projects.
"As of the moment, there are three road sections in the region that are closed due to falling rocks but we hope to open them by tomorrow," he said.
Since Wednesday, structural engineers are assessing the integrity of all public buildings, including residential houses if these are safe for occupancy.
As ordered by Vigan City Mayor Jose "Bonito" Singson Jr., all public offices remain closed until further notice, while private establishment owners are advised to check and ensure the structural integrity of their buildings before they resume operation.
"Structurally compromised building should not be re-occupied unless certified safe by structural engineers," said Singson in his order. (PNA)