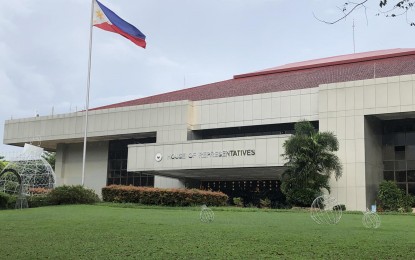 MANILA – Several lawmakers in the House of Representatives on Thursday emphasized the need for the immediate passage of a measure seeking to establish a Department of Disaster Resilience (DDR) to manage the country's disaster preparedness, response, and rehabilitation efforts.
Ang Probinsyano Party-list Representative Alfred Delos Santos said the magnitude 7 quake that hit Abra and nearby areas should be the "last reminder" to Congress on the urgent necessity of creating the DDR.
Delos Santos said the chamber could expedite the approval of the bill since it was already approved in the 18th Congress, citing House Rule 10, Section 48, which authorizes the committees to dispose of priority measures already filed and approved on the third reading in the previous Congress.
"I was a co-author of the Department of Disaster Resilience (DDR) bill during the 18th Congress. It was approved on third and final reading; so, I add my voice in agreement to the fast-track approach to bills that the House previously approved on third and final reading," Delos Santos said.
A more science-based approach to disaster resilience
Davao City Representative Paolo Duterte, Benguet Rep. Eric Yap, Quezon City Rep. Ralph Tulfo, ACT-CIS Partylist Reps. Edvic Yap, Jocelyn Tulfo and Jeffrey Soriano, meanwhile, pushed for House Bill No. 452 that aims to create the DDR.
The bill seeks to create an "empowered, highly specialized, science and information and communications technology (ICT)-based and fast and responsive Department of Disaster Resilience, with the clear unity of command which shall be primarily responsible for ensuring safe, adaptive and disaster-resilient communities."
"We should emphasize the science-based aspect of this proposal. With the Philippines among the countries most vulnerable to the destructive effects of climate change, science and technology should play a key role in helping us prepare for possible disasters," the lawmakers said.
Under the measure, the DDR shall manage and direct the implementation of national, local and community-based disaster resilience and disaster management programs, projects and activities in collaboration with relevant government agencies, local government units (LGUs), civil society organizations, academic groups and other stakeholders.
Duterte said their proposed measure includes the establishment of a National Disaster Operations Center (NDOC), Alternative Command and Control Centers (ACCCs) in the regions and the Disaster Resilience Research and Training Institute (DRRTI).
He said the DRRTI will help develop a highly professionalized corps of officers that will be in charge of, among others, multi-hazard mapping; risk analysis; and the setting up of a database that includes relevant information from other government agencies and third parties for the DDR to better prepare and respond to natural hazards.
The DRRTI also includes the establishment of reliable and up-to-date disaster-related information and communications systems and technologies through close coordination with the Department of Science and Technology (DOST) and academic institutions.
"If we are to create a Department of Disaster Resilience, we should make it a strong, dependable agency by employing the latest technologies available. This will ensure that the DDR will be efficient and effective in performing its task of being the country's main disaster management agency," Duterte said.
Evacuation centers in every city, municipality
Speaker Martin Romualdez, Committee on Accounts Chairperson Rep. Yedda Maria Romualdez, and Tingog Party-list Rep. Jude Acidre filed a measure that would make temporary shelters always available for Filipinos under House Bill 16.
The bill proposes to establish evacuation centers in every city and municipality that would offer accommodation for people who have been displaced from their homes due to natural or man-made disasters.
"Seeking temporary solutions to the displacement of families by using schools as evacuation centers must be stopped. There should be no tradeoff between protecting lives and the education of students. The provision of adequate evacuation centers is of invaluable importance during cataclysmic times," the lawmakers said.
To save government expenses, the measure provides that existing structures that could be upgraded to effectively serve as evacuation centers would be designated as such in compliance with the local government unit concerned.
The LGUs would be responsible for the operation, supervision, and management of these evacuation centers.
The bill has already been referred to the Committee on Disaster Resilience to be deliberated upon by the legislators.
Bills promoting disaster preparedness, animal calamity rescue
Delos Santos said the Laging Handa bill under House Bill 1923 provides for the integration of basic medical training and disaster awareness or response in all institutions of learning, including but not limited to, schools, colleges, universities, and vocational learning institutions.
"The schools would be mandated to integrate into their respective curricula and make available to all its students relevant and updated subjects, units, and electives, or courses, regarding basic medical training, national emergency or disaster awareness, preparedness, and response," he said.
Implementing agencies in HB 1923 are the Commission on Higher Education (CHED) and the Department of Education (DepEd), in coordination with the Department of Health (DOH), Department of Interior and Local Government (DILG), and the National Disaster Risk Reduction and Management Council (NDRMMC).
He also pushed for the Animal Calamity Rescue bill (HB 1915) to address the lack of guidelines about the rescue of livestock and working animals during times of calamity.
"Many of our fellow Filipinos depend on their animals for their livelihood or business, and their rescue during disasters would reduce calamity impacts on households and enterprises," he said. (PNA)